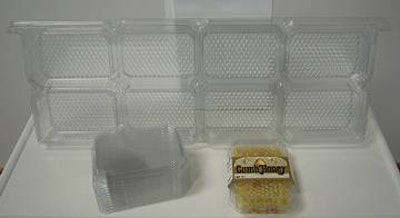 What you don't know may come back and sting you. Seriously, the Bee-O-Pac tray thermoformed of amorphous PET earned silver-level recognition in the annual DuPont Award competition. The awards were reported recently by Packaging World and other industry media.
During interviews with Bee-O-Sphere designer and president Ian Bigham and subsequent research, he relayed a few facts about bee packs and bees that I found too fascinating to keep to myself. So, bee prepared for the following:
Bees prefer trays made APET over those made of injection-molded polystyrene. This is key to the success of Bee-O-Pacs from Bee-O-Sphere. Bigham says that the thermoformed trays are a lot smoother, with well-rounded corners, that bees prefer. "There are no sharp edges," he says. "If the entire tray is smooth and clean, as ours are, the bees don't have to work as hard and they'll fill it properly."
A 'bee space' is 3/8''. That's the gap that permits two bees to move back to back through the same space in opposite directions, such as in and out of a hive. That measurement was part of the design of the trays, which are thermoformed as a connected 4x2 sheet of trays. Buttons in the top match up to holes in the opposite set. These are crimped together, leaving a precise 3/8'' gap between the facing tray flanges. Each tray yields close to 4 oz of honeycomb and measures 3''x4 1/2''x3/4'' and has a concave honeycomb pattern thermoformed in the bottom.
The 25ꯠ sets of Bee-O-Pac tray sheets produced are enough for only less than 1% of the beekeepers in North America to test.Apparently, there are a lot more hives and beekeepers out there than I'd imagined.
Filling is s-l-o-w: The trays may take weeks or months to fill. Actually, the process involves honeycomb production, an energy-intensive process for the bees that may take weeks or months. The cycle time depends on hive strength, number of bees, honey flow, and weather, according to Bigham. At the time of the interview, in early August, the unseasonably cool Canadian summer was putting a bottleneck on production to the point where he had only a few actual honeycomb-filled samples of his own.
The packs bring added value to beekeepers. "Beekeepers sell honey for two dollars (Canadian) a pound, but can sell a Bee-O-Pac for twice that," says Bigham. Each pack holds 4 to 4.5 oz of product; a hive can potentially yield 128 packs if all are filled properly, Bigham says.
Bees will produce natural variety multipacks. The taste and appearance of the honey depends on the flower source, such as buckwheat or the ever-popular clover, which produces a clear honey. Bees are sticklers for quality and consistency and won't produce mixed batches; they will finish off a comb in one tray with one "varietal" before starting another.
According to Bee-O-Sphere's Andrew Sperlich, honey in Europe is sold by floral source instead of color. "It can be seen when you look at the back side of the packages," he says. He suggests it would be easy to identify each pack by flora at harvest, such as strawberry, blueberry, buckwheat, and clover. This list will expand greatly as each geographic region markets its own floral sources, he adds.
I couldn't get Bigham to bite on his favorite type of honey, but he did point out an attribute that consumers desire: low crystallization. Crystallization is a result of the source of the honey and depends on the honey's sucrose content; the higher, the more it will crystallize in turning from clear or golden to cloudy.
I asked Bigham about shelf life and he laughed. "I've got a one-year-old pack sitting on my desk here," he says. "It will last a long time if it's capped (a honeycomb cell that's sealed with beeswax)." Bigham says that honeycomb and honey are naturally antiseptic because enzymes and peroxide are a natural byproduct of bees' honey making.
Bigham began with small prototypes that were produced in his garage using a hair dryer and a Shop Vac. "I stapled the trays to a wood frame and popped it into a hive to see if the bees would do anything with it," he says. The rest is sweet history.
Companies in this article