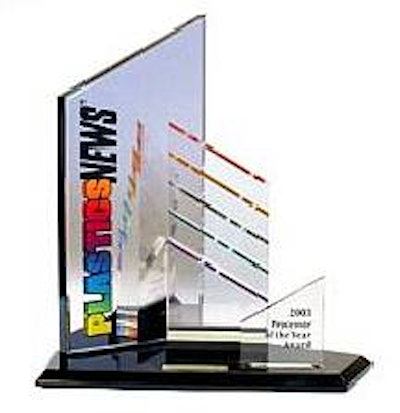 Unimark, an injection molder based in Greenville, SC, won out over two other finalists — both automotive injection molders.
Plastics News will run a profile of Unimark in the Feb. 9 print issue.
Unimark has sales of about $100 million from six U.S. injection molding plants. Part of publicly traded Jarden Corp., Unimark makes a variety of consumer and medical products.
Now in its eighth year, the award recognizes companies for excellence in seven criteria: financial performance, quality, customer relations, employee relations, environmental record, public service efforts and technological innovation. A committee of Plastics News editorial staffers judged the entries.
For the second straight year, Ernst & Young Corporate Finance Inc. co-sponsored the award. Ernst & Young also helped judges analyze the financial performance of the companies.
This year, 20 processors were nominated for the award: 15 injection molders, three extruders, one blow molder and one thermoformer.
Companies in this article