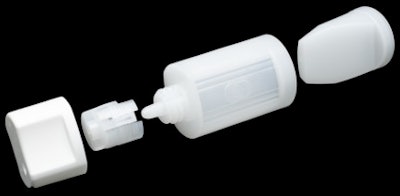 IMA is represented in the United States by IMA North America, Inc. (Fairfield, CT).
The sterile pre-assembled package--vial, two-piece cap, and bottom closure--is aseptically introduced into the filling line, then reoriented in a cap-down position. The bottom closure is then mechanically removed, and the vial is filled. After filling, the same bottom closure is re-installed on the continuous-motion machine. The closed vial is then transported to the next machine, where a patented welding process hermetically heat-seals the bottom closure to the vial. There is no need to torque the cap, since the membrane, molded as part of the dropper tip, already seals the vial. The vials are automatically inspected for leaks on-line and then moved out of the a coding station, where a data matrix ink marking is applied on top of the white cap for future identification.
A secondary packaging line adds the body label with tamper-evident tear-strip to the vial and side of the cap, and a color coded label to the top of the cap. The vial is then cartoned along with a printed product insert.
Companies in this article