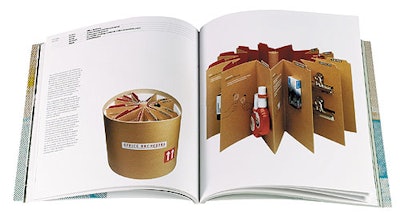 From the title onward, there's obviously a gulf between American and European English terminology that this book exemplifies. In the United States, the word "experimental" would describe packaging that we would call pre-commercial. Yet, so far as I can tell, each of the 50 examples in Experimental Packaging is or has been a commercial package, although many were in very limited production.
The book, published by RotoVision, was compiled and presented by Daniel Mason of Artomatic, a London, England-based printing company. The packages selected for inclusion, Mason says, "hopefully go some way to teasing out some particular examples of what we consider experimental." To be successful, a package must be recognizable, informative, immediate, textural, functional, and dependable.
Nonetheless, the examples that Mason includes are as striking as the wonderfully reproduced photography that illustrates them. For each, he credits the designer and client, but only identifies the packaging materials in the most general way, like "corrugated cardboard." No identification of fluting or thickness nor any other mechanical description is included.
Each project is described in just a few paragraphs of copy in a very small typeface, and the focus on many is how the designer wanted the user to interact with the package. Each of the 50 is grouped under one of three main categories (protect, desire, or inform), and the last 40-odd pages of the book are devoted to a description of packaging materials and processes, plus 17 basic box templates that are designed to be used as a starting point for design professionals and students.
Mason acknowledges that his choices are highly subjective. He then goes on to say that "packaging allows us to be aware of more of our senses, makes us less lazy in our perception of the world...packaging can create desire for things. It can make certain information more important because it has been presented in an unexpected way."
That could hardly be more true; for example, an eyeglass box of pearwood side panels held by a formed sheet of spring-tensioned steel, or a watch on a shaped foam piece inside a shaped envelope of polyvinyl chloride fitted with a zipper opening device.
As one might expect, U.S. readers will need to translate some British terms like polythene (polyethylene) and Mirriboard (metallized polyester laminated to folding carton stock). However, the author includes a glossary of plastics abbreviations and a layman's guide to several packaging processes.
Ultimately, Experimental Packaging is decidedly not a guide for those designing high-production packaging. For those looking for new ideas for short-run promotional packaging, it will stimulate the mind, much like a free-wheeling brainstorming session.
Experimental Packaging
Author: Daniel Mason
Specifications:
Pages: 144
Size: 9 x 10¼"
softbound
Price: $37.50
Published: Nov. 2001
Pluses: Excellent photography. Interesting examples.
Unusual materials.
Minuses: Minimal packaging details. Hard-to-read copy.
Most hand-packaged.
Bottom line: The art of the possible