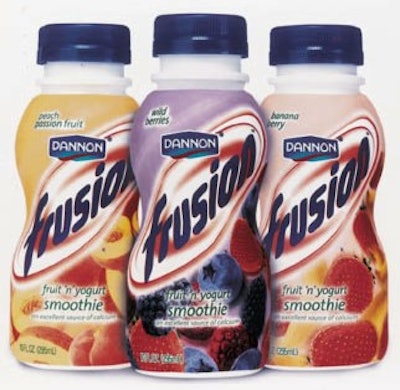 The blow-molded high-density polyethylene bottles come from Graham Packaging (York, PA). The 2-mil polyvinyl chloride label is printed gravure in nine colors by CCL Label (Rosemont, IL). The injection-molded polypropylene tamper-evident twist-off closure is supplied by White Cap (Downers Grove, IL). Dannon would not reveal any details about the filling operation. According to company packaging engineer Jason Crouch, Graham also supplied bottles for Dannon's Danimals drinkable yogurt (see Packaging World, Feb. '00, p. 34).
Frusion brand manager René Ralston adds, "We wanted the packaging to be as convenient as possible, with a contoured, easy-to-grip bottle that fits nicely in the hand. And we wanted the graphics to be eye-catching, with vibrant colors."
Shelf life is 45 days for the refrigerated product, Ralston says. "We're targeting placement in the beverage cooler," she tells PW. "Even though there's yogurt in the product, we're not considering it as a yogurt product. We have the first national fruit and yogurt smoothie in a ready-to-go bottle."
The product will be sold at C-stores, "and any place consumers can eat food away from home, such as at schools, colleges, business cafeterias, airports, toll plaza stations, and so on," Ralston says. She adds, "many of these locations display the product in bins, so we printed the Frusion logo and 'shake well' instructions on the top of the cap so the consumers can identify the product if they're looking down at it."
The 10-oz smoothie is available in three flavors, with a $1.49 suggested retail price. "It's done really well in the test markets," Ralston says, pointing out that a 3.1-oz free sample version is also distributed to consumers in certain test markets. It uses smaller versions of the same packaging components of the 10-oz size.
Companies in this article