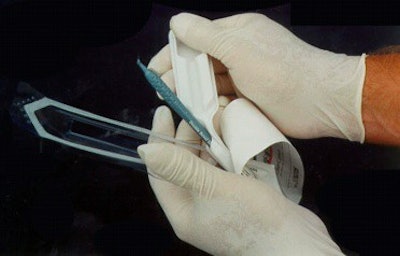 The World Packaging Organization (WPO) recently announced that the Becton Dickinson (BD), Waltham, MA, surgical scalpel package, designed by Prent (Janesville, WI), will be one of the trays awarded at the WPO WorldStar awards ceremony on April 2 in Birmingham, UK.
The sterilizable package suspends and immobilizes a sterile ophthalmic cutting instrument for surgery. BD, which was unavailable for direct comment, introduced the scalpel package to the ophthalmology market in mid-1999.
Prent uses a solid-modeling thermoformer with three-dimensional software from Unigraphics Solutions (Maryland Heights, MO) to manufacture the inner and outer trays. Prent's pressure-forming process heats, forms, cools and cuts a custom plastic sheet in a continuous in-line process using BD's custom molds, which are engraved with commodity numbers and SPI symbols.
Plastics plus
BD manually inserts the scalpel into the inner tray, thermoformed from a .025", white, high-impact polystyrene (HIPS) sheet from Primex (Indianapolis, IN). The scalpel is snapped into the inner tray and is retained with varying pressure applied along its length. According to Prent, this customized product cavity inhibits rotational and end-to-end movement of the handle, thus protecting the blade from damage.
The inner tray is then manually placed into an outer tray that is thermoformed from a .015" blue-tint polyethylene terephthalate copolymer (PETG) sheet from Goex (Janesville, WI). Using an Alloyd (DeKalb, IL) machine, the outer tray is lidded and sealed. Perfec-Seal (Philadelphia, PA) supplies the lid made of DuPont coded 1073 D Tyvek. It is thermal transfer printed in up to three colors.
At the awards ceremony, WPO will also recognized the merit of a Smith & Nephew double-barrier sterile Universal Hip-Stem package that Prent designed.
Companies in this article