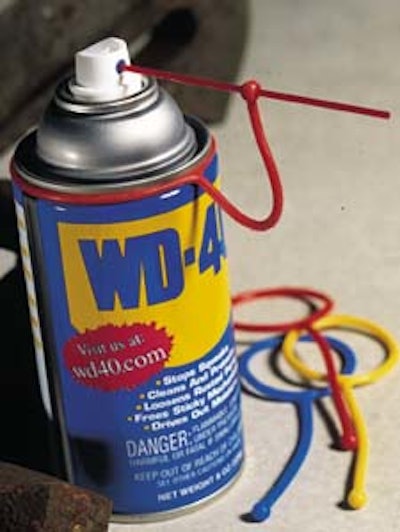 Supplied by Hold-It (Spring, TX), the one-piece strap has a flexible ring on one end that fits over the top of the can. The red tube fits through an opening in a small rubber ball located at the other end. The tube is affixed to the steel can by pressure-sensitive tape. A 1 1/4''x 3 1/4'' p-s label with graphics in two colors secures the strap to the can, obscuring only a reference to the WD-40 Web site on the can.
"We know the importance of that little red straw, so we're offering a way to keep it always at-the-ready," said marketing director Paige Perdue when Packaging World spoke with her at the National Hardware Show in mid-August.
Product pricing remains unchanged, $1.60 and $2.00, for the two sizes, Perdue says. That's despite a 20¢/can upcharge for the "straw strap" promo package. Most of the cost is for labor, she says, because straps and labels must be applied manually at the company's regionally located contract packagers.
Perdue informs PW that the company is working on a more permanent tube holder with cap supplier Berry Plastics (Evansville, IN.) Set for 2001 introduction, the red caps will be redesigned with indents to hold the tube on the cap after use. It will be a permanent upgrade on five product sizes from 2 to 16 oz.
More packaging innovations from the National Hardware Show will be reported on in PW's October issue.
Companies in this article