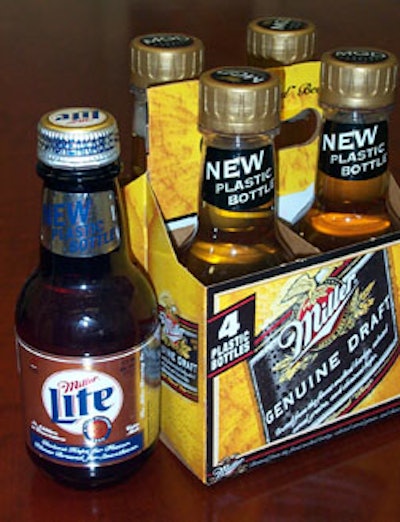 When Packaging World magazine last reported on Miller Brewing's plastic beer bottle (see April '00, p. 2 or packworld.com/go/beer), the Milwaukee-based firm was in the process of replacing the bottle's aluminum roll-on, pilfer-proof (ROPP) closure and paper label with components that would make the bottle easier to recycle. PW recently spotted the new closure in a Chicago supermarket, where four of the 16-oz plastic beer bottles in a paperboard carrier were selling for $4.29. Riverwood Intl. (Atlanta, GA) supplies the basket carrier.
Supplied by Owens-Illinois (Toledo, OH), the injection-molded polypropylene closure includes an oxygen barrier that O-I chooses not to identify. Unlike the aluminum closure, the PP material separates more readily from the predominantly polyethylene terephthalate bottle material during the float/sink process that recyclers use to reclaim the bottle material, says Miller's Mary Hartzheim, manager of regulatory affairs.
In this photo, the Miller Lite bottle has the ROPP closure, while the MGD bottle is topped by the new plastic closure. Labels on both bottles, however, are still made of paper. The new PP label, apparently, is still on the drawing boards or hasn't reached all markets yet.
Hartzheim declined to comment on the cost of the new closure compared to its ROPP predecessor.
Companies in this article
Videos from Graphic Packaging Intl.