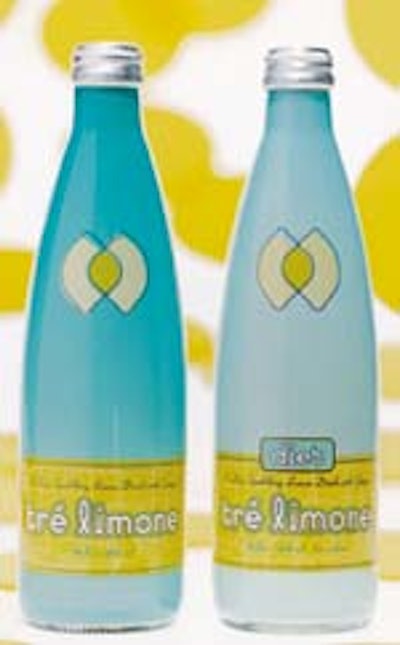 The introduction comes on the heels of the Clearly Canadian packaging redesign last month (see Packaging World, April '00, p. 10 or packworld.com/go/clearly). Although the flavoring of Tré Limone is quite different (it's described as a "dry, sparkling lemon-ginger drink") and the look of the 14-oz glass bottle is distinct, all the packaging materials are exactly the same as Clearly.
"We knew we were going to be using the same bottle as Clearly, so we wanted to make sure that [Tré Limone] looked different," says Jonathan Cronin, vice president of marketing at a U.S. affiliate of Clearly Canadian Beverage Corp., which is based in British Columbia, Canada. "We also wanted to deliver premium, quasi-European, sophisticated imagery."
The result is a full-body shrink sleeve label done in a striking shade of aqua. An illustration of bright yellow lemons that is intentionally out of register decorates the top of the bottle, and a yellow band across the bottom calls out the Tré Limone name in a trendy script. The sleeve is made of Eastman's (Kingsport, TN) 2-mil Eastar® PETG copolyester and is gravure-printed in six colors by CCL Industries (Willowdale, Ontario, Canada).
Clearly Canadian invested in a PDC (South Norwalk, CT) sleeve applicator and steam shrink tunnel for both Clearly and Tré Limone that operates at speeds of 325/min. According to Cronin, steam delivers the even and consistent shrink desirable to Clearly Canadian. When asked about the cost of the machine, Cronin admits it was a big investment but says it is the best solution for the application. "We're going to use this puppy a lot," Cronin says. "I don't think our next brand's label material will be a big surprise to anyone."
Retailing for 99¢ to $1.09, Tré Limone hit store shelves throughout the U.S. and Canada in March.
In a hurry? Request more info via Web-based reader service by clicking on the reader service number.
Or you can jump right to their Web site.
Companies in this article