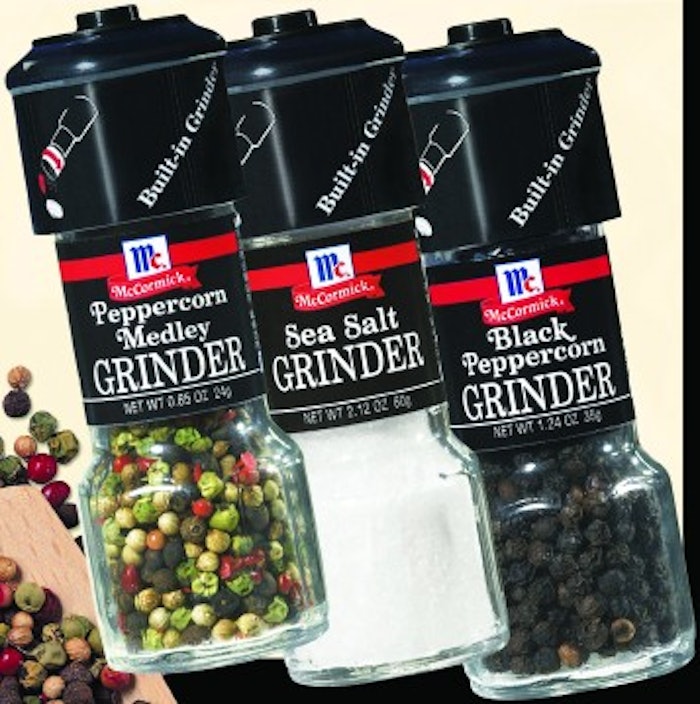 Priced at $1.99, the glass bottles are topped with a built-in grinder closure for use in cooking and at the table.
The packaging comprises labeled bottle, grinder and black plastic cap. To grind the spices, users simply remove the friction-fit cap, turn the bottle upside down and twist the bottle while holding the grinder's outer ring stationary. The grinder looks to be molded of three plastic parts, including one with teeth that remains stationary against which an inner teeth-equipped ring moves. With each twist, whole spices are cracked to deliver coarsely ground salt or pepper through the 1 1/2'' open end. Grinders are available in three varieties: Black Peppercorn, Peppercorn Medley, and Sea Salt. The netweights for the same-size bottles are 1.24 oz, 0.85 oz, and 2.12 oz, respectively.
A clear perforated band printed with "Built-in Grinder" copy and a usage graphic provides tamper-evidence. The paper label is also printed with graphic instructions.
"People add pepper nearly as often at the table as they do during the preparation of a meal," explains Laurie Harrsen, director of public relations. "With McCormick Grinders, people can crack the pepper at the exact moment they're ready to use it, ensuring fresh flavor each and every time." The product is packed in France, where the same packages--in regional language--have been available for five years in select European countries under the Ducros brand name. McCormick receives them stateside packed 36/case.