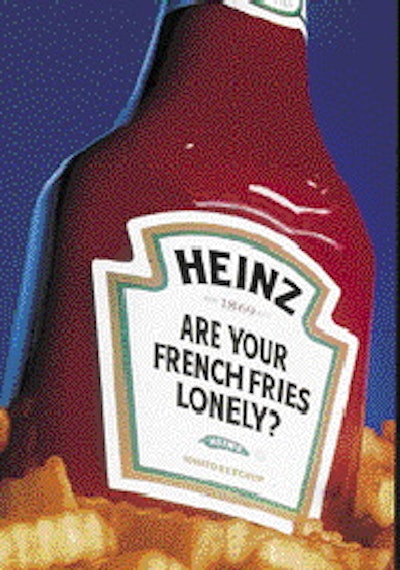 From November through January, approximately 10 million labels will sport quips like, "Are your french fries lonely?" and "More fun to squeeze than toothpaste" on 24- and 36-oz polyethylene terephthalate bottles.
"We really need to significantly increase our leadership in the [ketchup] category," says Brendan Foley, brand manager at Heinz U.S.A., Pittsburgh, PA. He believes the labels give the ketchup a more contemporary, edgy attitude that will appeal to moms in the supermarket, and ultimately to teens. "Even though we're using teens as a conduit for reinvigorating [the ketchup's] personality, moms are a part of the target audience as well," he says.
Foley says that on a given supermarket shelf, only half of the Heinz bottles will have the new labels because in market research, Heinz learned that not everyone would buy ketchup with the message label.
At Precision Printing and Packaging (Pittsburgh, PA), labels are gravure-printed in four colors on 47# paper. The new message labels are intermingled with the original labels and sent to Heinz's Freemont, OH, plant where the bottles are filled and labeled via cold glue. When shipped to retailers, cases will carry half message labels and half conventional labels.
Foley admits Heinz incurred added costs for this campaign, but "it was not a significant component we had to evaluate," he says. "The overall objective is reinvigoration and an emotional connection with the ketchup."
Heinz PET bottles with the new message labels are sold nationwide and retail for the same price as the ketchup with the conventional labels: $1.49 to $1.59 for the 24-oz bottle, and $2.29 to $2.39 for the 36-oz bottle.
Companies in this article