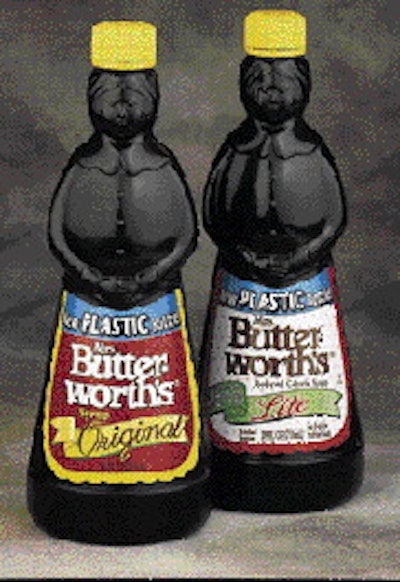 Butterworth's syrups, including the 12- and 36-oz sizes, by mid-next year.
Plastic is particularly suitable for the syrup because the bottle is targeted at young children, says Ed Yuhas, general manager of Aurora Foods' Breakfast Division in Columbus, OH. "Parents were calling our consumer hotline to request that the syrup be made available in a durable, lightweight plastic bottle instead of glass," he says.
The bottle has the same structure as the recently introduced Mrs. Butterworth's 18-oz kids-oriented syrup (see Packaging World, February '99, p. 4, or www.packworld.com/go/butterworths). The latest version is a coextrusion blow-molded PP bottle from Pechiney Plastic Packaging (Chicago, IL) with a nylon barrier among its three "proprietary" layers to protect the syrup's flavor.
Changes to the label include a move to pressure-sensitive from glue-applied and a banner across the top stating, "New Plastic Bottle!" Syracuse Label (Liverpool, NY) letterpress-prints the 60# paper label in six colors for the front label, two to four colors for the back. A 1-mil PP laminate over the print protects it. The 28-mm threaded closure from Kerr/Suncoast (Lancaster, PA) is injection-molded of PP and has a break-away tamper-evident band.
Yuhas says the PP bottle costs the same as its glass predecessor, but because the plastic bottle is smaller, freight costs have gone down. "When we were shipping a truck full of glass, we could ship 1갰 cases to a full truck. With plastic, we can ship more than 1군," Yuhas says.
The retail price for the 24-oz bottle is the same as the glass bottle: $2.99.
Companies in this article