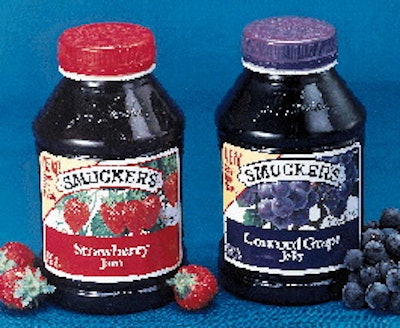 Now it's jam's and jelly's turn as J.M. Smucker Co. has introduced 3-lb portions of strawberry jam and grape jelly in heat-set PET jars. The jars are available in club stores in the West.
Smucker's Brenda Dempsey says the Orville, OH, company declines to comment on new packaging. But industry observers say the jar is from Schmalbach-Lubeca (Manchester, MI) and the 63-mm VHJ polypropylene closure is injection-molded by White Cap (Downers Grove, IL).
qualities that drew applesauce marketers-light weight, shatter resistance and consumer preference-likely motivated Smucker's to try PET. The Smucker jars have easy-grip indentations on the sides and a crystallized neck finish.
Companies in this article