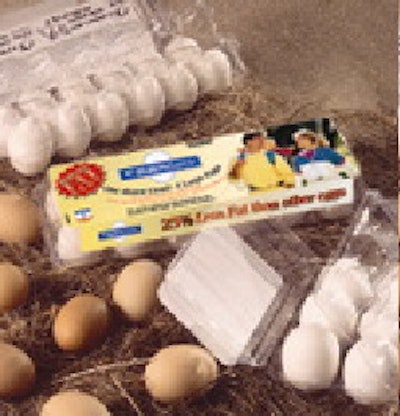 "We have a high-end, value-added product," notes John Brunnquell, a third-generation farmer who helped form Egg Innova-tions in January by launching a line of specialty brands including Eggstasy (reduced fat), Pride of the Nest (from hens not confined to cages), and Vegetarian Harvest (from hens fed grains only and no animal byproducts). "We're not commodity eggs, we're designer eggs, and we couldn't convey that with a drab pulp or foam carton."
So was the switch justified? "Absolutely," says Brunnquell. "We have superb graphics appeal at point of sale. It's brought a lot of new business."
Interplast (Blaineville, Quebec, Canada) thermoforms the stock tri-fold containers and also sources the paper "in-lid" label, which fits snugly inside the top flap but is not held in by adhesive. "We wanted to avoid adhesives because our customers, demographically, tend to be strong on recycling and we felt an adhesive might hinder recycling of the PET," says Brunnquell. He likes the label because it can be used for cross-merchandising or promotional purposes, yet it doesn't obstruct a perfectly clear view of the eggs.
The tri-fold feature permits each egg to be cushioned in its own cell. Unlike a conventional carton, where the inside of the cover is flat and unmolded, the interior flap in this carton is molded with 12 cavities. So when it's folded over the eggs, the tops of the eggs are cradled in a formed space just as the bottoms are.
Egg Innovations brands can be found in about 30 states, where they cost about $2/doz.
Companies in this article