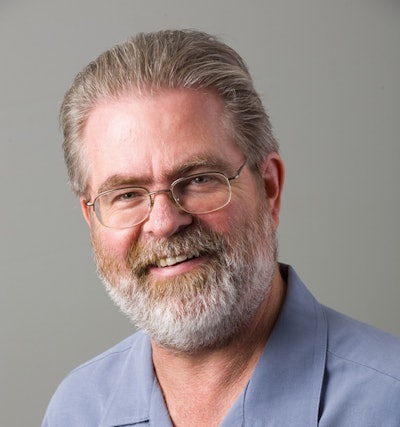 It describes Diageo's dramatic redesign of the glass bottles used for its Baileys Cream Liqueur. A gold double-B logo in a Celtic script now graces the front shoulder of the new bottle in the form of a pressure-sensitive label. It's a big improvement over the previous format, where the logo was embossed right into the glass. The new label, which appears to be hot-stamped, has all the tactile appeal of the embossment into glass. But the gold logo beckons elegantly from the store shelf in a way that its predecessor never could. Well done, team Baileys.
More labeling magic comes to us from Norway and Canada. Let's start with Norway's Freia Boble, a confectionery product. Brand owner Mondelez International has given this flow-wrapped chocolate bar a p-s label that undergoes a micro printing process from a company called Rolling Optics. The label brings a remarkable 3D quality to the pack. I have one on my desk, and every time I pick it up, I could swear that it's possible to penetrate the label's flat surface and manipulate the little air bubbles that magically hang there, floating in 3D. The air bubble quality, by the way, is perfectly suited to this particular candy bar because its most distinguishing characteristic is its bubbly, aerated structure.
Rolling Optics is guarded about some of the technical details behind the patented micro printing technology. What we do know is that it begins at the Rolling Optics facility, where polypropylene in the 90-micron range is sent through a printing process that appears to be significantly different than the flexo, offset, gravure, or digital methods used routinely in the packaging space. Done at a sub-micron level, the printing results in micro-optical features and makes light reflect so that the right and left eyes see different images. "The brain," says the Rolling Optics web site, "then pulls the pieces together, creating the illusion of real depth."
Rolls of this printed PP are then sent to commercial label converters that marry it to a release liner and die cut it into individual labels so that it can then be sent to Mondelez or whomever the customer is for application to a package. Once the finished label material reaches a labeling machine, it behaves like any other roll of p-s material and can be applied at conventional speeds.
And then there's Canada, home of a technology from a startup called think4D. What they've developed involves four steps. First is flexo printing of PET sheet. In a second operation, the sheet is thermoformed to a shallow draw and individual thermoforms are die cut from the sheet. Next, a p-s release liner is applied to the thermoform. Finally, the thermoform is manually pulled from its release liner and applied like a label to a conventional folding carton. The impressively tactile results are shown in the Mountain Mike's package included here. "Embossing the paperboard carton might have given them some of the tactility they were after, but this is much more dramatic," says think4D's Mike Fehr.
I'll say. But you ain't seen nuthin' yet. Don't miss next month's issue, where I'll describe an application of think4D's technology that comes from a CPG company slightly more recognizable than Mountain Mike's.