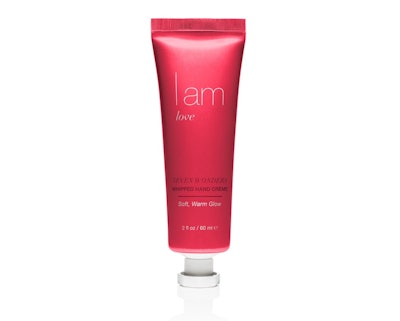 A new line of skin crèmes from I AM® Danica Aromatics, Inc., a manufacturer of fragranced luxury beauty products, located in Santa Monica, CA, has launched in custom containers and closures from World Wide Packaging LLC (WWP). Founded in 1999 by Danica Siegel, I AM® "is about claiming who you are head on with a light heart and fierce confidence," notes the company website. The company's new hand crème line consists of nine "set-to-mindset" fragrances, including I Am Love, I Am Peace, and I Am Me.
The hand crèmes are packaged in a streamlined, 30-mm foil polymer tube with a custom octagonal cap. Each tube contains 2 oz of product. Color selection for the new line's packaging was both comprehensive and cooperative, says WWP. "The I Am line's mood-mindful diversity led to an unusually large number of careful decisions regarding tube color choices," the company says. WWP worked with Product 360, I AM Fragrance's design partners, to ensure that the customer's colors complemented each crème's name and scent with an appropriate tube hue and tone. WWP provided expertise and support to guarantee the deco colors were vibrant on each tube.
Among the colors selected are a pale pink for I Am Naked, a hot pink for I Am Naughty, a deep red for I Am Love, and a vibrant teal for I Am True, among others.
"Determining and perfecting the color matches of each metallic glowing tube was particularly challenging, because each of the nine fragrances is unique yet contained in a set brand," Says Jim Farley, Vice President of Global Business Development at WWP. "For that reason, the colors needed to be dramatically different from one another while still making sense within the uniformity of a branded line. For example, 'I Am True' and 'I Am Naughty' are not only two separate scents, but also different mindsets entirely—and the packaging for each had to reflect that distinction while still staying true to brand."
Companies in this article