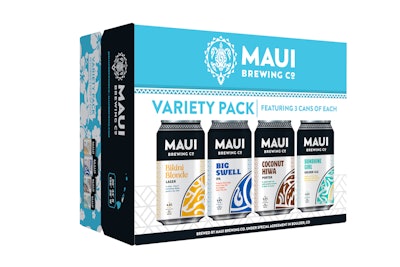 Founded in 2005, Maui Brewing Company is known for having paved the way for Hawaii's thriving craft brew scene. Now the largest craft brewer in the state, it produces 125,000 to 130,000 barrels of craft beer, soda, seltzers, and spirits annually, 60% of which are canned, with the balance comprising draft beverages. In 2019, in response to consumer pushback against plastic and Hawaii's lack of plastic recycling services, the brewer began the process of switching from plastic ring carriers to paperboard cartons for its multipacks.
For the reasons cited above, as well as the greater shelf visibility provided by cartons, Garrett Marrero, chief executive officer and co-founder of Maui Brewing, says the move made sense. However, he notes, replacing plastic with another packaging material, from a sustainability standpoint, is not always the best option. "I think the vast majority of the population erroneously believes that cardboard is somehow more eco-friendly than plastic," he says. "On its face, it does sound like paper is better than plastic, but in reality, the type of plastic, where the plastic comes from, and how it's processed, all these things have a bearing. But when you try to explain that to someone, you've already gone too far, and you've lost them."
---
---
He adds that the PakTech-supplied ring carriers previously used by Maui Brewing are arguably the most sustainable option for six-packs. "For example, in 2019, we diverted 620,000 one-gallon milk jugs from landfills in order to produce the rings for our beer," he says. "But the problem was that here in Hawaii, where 82% of our beer is sold, plastic is not being recycled anymore. So even though the rings are made from recycled plastic and can be recycled themselves, with Hawaii not recycling plastic any longer, those rings were then essentially single-use; we couldn't get them back. So that's why we elected to go in this different direction."
The new cartons, for four-, six-, 12-, and 24-ct multipacks of single and mixed SKUs, were designed in-house by Maui Brewing's marketing team, made up of Marsha Hansen and Trent Tokos. "We adapted our graphics from the cans to create the effect we were looking for with the cartons, essentially the billboard effect, if you will," says Marrero. He adds that the greater appeal of cartons on-shelf versus multipacks in ring carriers has often been shown to drive increases in volume and velocity, which also made the move to cartons an attractive proposition for Maui Brewing.
The new packaging, supplied by Graphic Packaging International and WestRock, is made from paper sourced from sustainably managed forests in the southeast U.S. and contains 15% recycled content. The Coated Natural Craft (CNK) paperboard is fully recyclable and is designed to stand up to the rigorous packaging conditions associated with refrigerated beverage products.
---
---
While Maui Brewing's switch from paper to plastic may sound like a simple swap, the project took several years to accomplish and involved significant capital expenditures in new cartoning and complementary equipment. The brewer timed the move to cartons to coincide with the installation of a new packaging line that includes canning equipment with faster filling speeds.
For multipack packing, Maui Brewing purchased a tray former and cartoner from WestRock and a tray packer and robotic cartoner for mixed-SKU cases from Hamrick. Additionally, it added conveyors from A&E Conveyor Systems, a spiral conveyor from AmbaFlex, and a palletizer from Columbia. The new line also required the brewer to create additional space for the equipment, including a two-story mezzanine, as well as train its team on operation and maintenance of the machinery.
The rollout of the new carton was done in two phases, with 12-ct mixed-SKU cartons introduced in 2020 and the full transition taking place in 2022. The new packaging is being used for all of Maui Brewing's beverages, including its Maui Craft Beer, Island Sodas, Maui Hard Selzer, and Kupu Spirits. The only exception is the canned craft beer produced by Modern Times Beer of San Diego, which Maui Brewing acquired in late 2022.

Companies in this article
Videos from Graphic Packaging Intl.