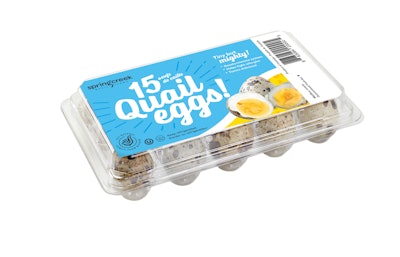 Spring Creek Quail Farms
Spring Creek Egg Farm's new Bio-PET quail egg packaging performs a balancing act of sustainability.
Supplier Good Natured Products says the cartons are 100% recyclable and replace as much as 30% of the non-renewable fossil-based PET with renewably sourced plant-based PET, while retaining the visibility and durability of traditional PET cartons.
"We believe a business shouldn't have to compromise great design, product enhancement and durability in the search of environmentally friendly packaging," says Aaron Oosterhoff, Spring Creek owner and CEO.
The new packs help to limit food waste that results from egg breakage, whether through the Bio-PET's crush resistance in transport, or by allowing consumers to peek at the product without opening it at stores. That's all while meeting Spring Creek's requirements for recyclability across North America, and reducing its reliance on fossil fuels.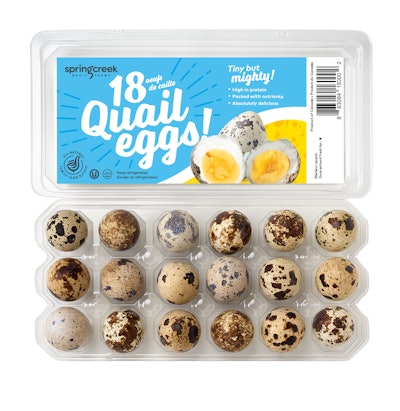 "It's in our DNA to match our packaging choices with our zero-waste, vertically integrated business practices, and we're grateful Good Natured could meet all our requirements," Oosterhoff says.
The design process allowed Good Natured to dig into Spring Creek's unique needs, "understand their industry and then fine tune a design and precise material choice that would check all the boxes," adds Paul Antoniadis, Good Natured CEO.
"I'm proud of our team who worked diligently on iterations until the perfect form and function was achieved for Spring Creek and we look forward to continuing to make fresh quail eggs readily available throughout North America," he says.
The newly packaged Spring Creek quail eggs are available at U.S. and Canadian grocers including Kroger, Costco, Loblaws, and Sobeys.
Companies in this article