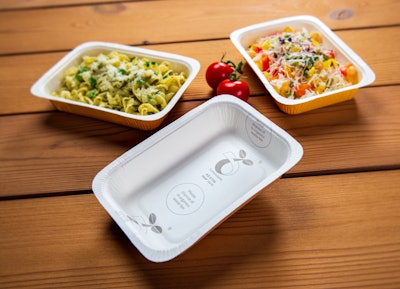 ThePackHub
The trend of packaging made with natural materials continues to be active, as compostable and biodegradable packaging continues to be developed. We also continue to track several new bio-based material alternatives to plastic. There is a significant amount of compostable, biodegradable and bio-based examples both in development and coming to market.
Learn more about ThePackHub's Innovation Zone here.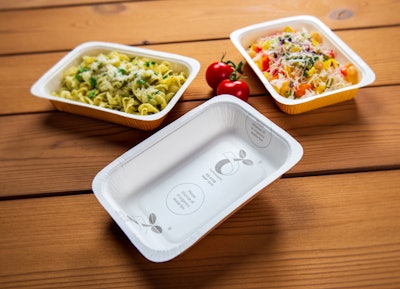 Confoil and BASF Partner for Compostable Paper Ready Meal Tray That Uses Bio-Based Barrier
A collaboration between two companies has led to the development of a compostable paper tray for ready meals. Confoil, an Australian manufacturer of food packaging developed the tray in conjunction with German multinational chemical company BASF. The tray, called the DualPakECO, is a formed paper tray that has the inside of the tray coated with BASF's ecovio PS 1606, a partially bio-based and certified compostable biopolymer that was specially developed for coating food packaging made of paper or cardboard. DualPakECO trays are certified to Australian standard AS4736-2006 and are food contact approved to international requirements. The trays are suitable for the microwave and conventional oven, as well as for the refrigerator and freezer, and are certified and industrially compostable. They are also reported to be grease-repellent, liquid-tight and odorless. Depending on the ecovio type and the type of paper, solutions for home composting or for industrial composting plants are possible.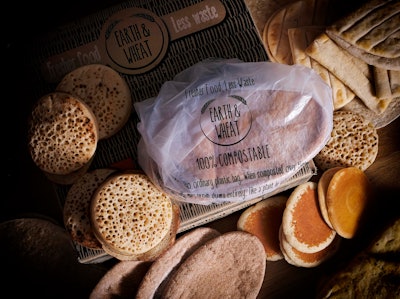 Bread Brand Switches to Home-Compostable Bag
Earth & Wheat has been touted as the UK's first "wonky" bread brand. The business delivers fresh bread that would otherwise go to waste due to its appearance or because of overproduction. The brand is trying to improve its packaging environmental credentials through the introduction of a home-compostable bag. This replaces Earth & Wheat's plastic bags. The solution has been supplied by KM Packaging as part of the C-Range. The C-Bag has been developed in partnership with compostable packaging experts Treetop Biopak. The compostable packaging has similar properties and look and feel to conventional plastic. The new bags will disintegrate in a home compost heap and biodegrade into a combination of carbon dioxide (CO2), water and biomass. A QR code is printed on the pack that directs consumers to information about the packaging and how best to dispose of it including use as bin liners for organic waste collection. The C-Bag meets the Soil Association Standard for packaging materials and has TUV certification.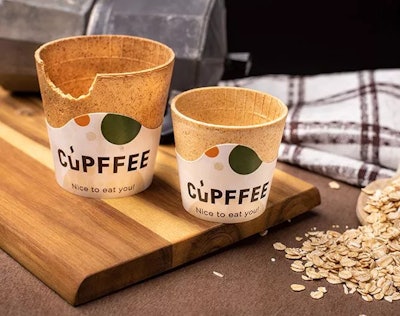 Start-Up Looks to Increase Production of Edible Coffee Cup
Cupffee is a Bulgarian start-up that produces edible, crispy wafer cups as an alternative to single-use plastic and plastic coated board coffee cups. With the help of Swiss food processing equipment manufacturer Bühler Group, they are looking to increase their output, which is currently at 3 million cups a month, to 10 million a month over the next two years, by installing two more lines at its factory in Plovdiv. The 110 ml and 220 ml Cupffee cups, which remain crunchy for up to 40 minutes, are made from natural oat bran and wheat flour, uncoated with chocolate or sugar, are just 56 or 105 kcal respectively and have a neutral taste, so as to not affect the contents of the cup. The edible cups have also been used to serve soups and antipasto, and the sleeves on the cups can be printed to promote any brand or message required.
Learn more about ThePackHub's Innovation Zone here.
Companies in this article