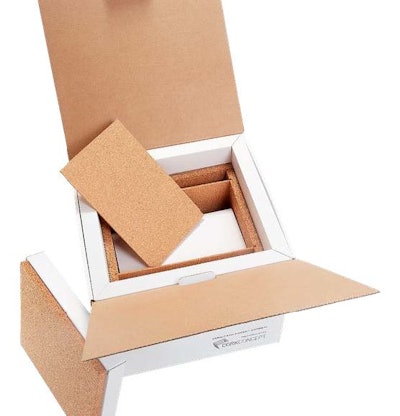 ThePackHub
Solutions that help to extend shelf life, reduce food waste and protect contents have environmental as well as cost-saving implications. ThePackHub continues to track many new initiatives in this area.
Learn more about ThePackHub's Innovation Zone here.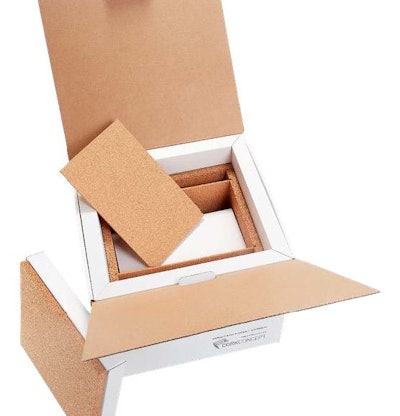 Cork Diffusing Plate Technology Helps Deliver Insulation Packaging
CorkConcept is a Belgian company that owns a European patent for multi-density cork diffusing plate technology for use in insulated packaging. It has been developed to meet the needs of the pharmaceutical and food markets in terms of improving the performance and sustainability of the insulated packaging needed to supply temperature sensitive goods. CorkConcept is said to be natural, reusable and recyclable. It can be used for transport duration of 24 to 96 hours, and it is also possible to do without the use of a refrigerated truck, meaning a reduction of transport costs and CO2 emissions. The process of the invention is as follows: a diffusing plate in cork is obtained with its outer skins of higher density than the inner part, which confers a diffusing property to the external surfaces and an insulating property to the inner part of the plate.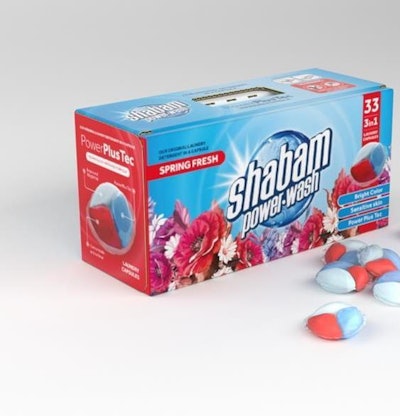 Paper-Based Child-Proof Detergent Box Delivers 40% Carbon Reduction
Global paper-based packaging specialists Smurfit Kappa has announced the launch of a patented paper-based and child-proof detergent box. Called the TopLock Box, it has been designed for detergent pods and capsules with child-proof features. Smurfit says that the TopLock Box is 100% plastic-free and made entirely from FSC-certified (Forestry Stewardship Council) paper-based packaging. This means that the TopLock Box is renewable, recyclable and biodegradable. The new paper-based laundry box solution is said to give a 40% carbon footprint reduction compared to traditional rigid plastic alternatives. Smurfit says that the TopLock Box's opening mechanism also makes it a safe and convenient solution for companies seeking a more sustainable alternative for child-proof packaging. The paper-based solution is apparently also leak-proof. The TopLock Box can be delivered as a flat, single item for inbound logistics and storage savings, while the dimensions of the pack can also be tailored to increase supply chain efficiency.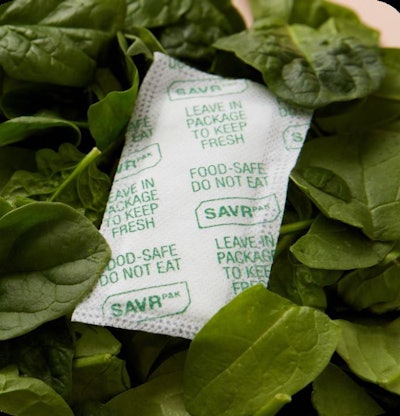 Shelf Life Extension Pouch Extends Berries' Life by Seven Days
SAVRpak, based in California, has announced the launch of SAVRpak Drop-In. This shelf life extension solution is a pouch that is added to packs of delicate fruits such as berries, and vegetables such as leafy greens and mini cucumbers. The technology eradicates condensation, the main cause of premature molding, wilting and spoilage of fresh produce. In fact, SAVRpak claims that within just one minute, SAVRpak's Atmospheric Control and Transmission (ACT) technology removes 50% of condensation. It then continues to keep condensation from forming by absorbing excess moisture and purifying the atmosphere within the pack to slow the aging process. The SAVRpak Drop-In is a thermodynamic, biodegradable, chemical-free pouch that is made from FDA approved food-grade materials that are 'primarily biodegradable' and 100% chemical-free. A trial conducted with RCG Fruits, whose berries typically stay fresh for 10 to 14 days, but using SAVRpak, found that its berries could last as much as seven days longer.
Learn more about ThePackHub's Innovation Zone here.
Companies in this article