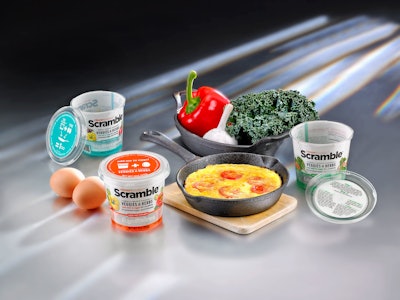 Burlington, Vermont-based CleverFoodies has launched Scramble, a vegetable mix for egg dishes, and it's proving to be a clear success in the U.S.
The unique product makes it easier to cook fast and delicious scrambled eggs, omelettes, or frittatas. Users simply whisk a few eggs with milk or water, add their favorite mix-in, cook, and enjoy.
The injection molded RPC Superfos SuperLock® pack has the format and feel of a jar, yet it's made of polypropylene. With a double-sided print on the click-on screw lid, the package allows maximum space to share brand messages and cooking instructions. The three varieties of innovative vegetable mix – Leafy Greens, Rancheros, or Mediterranean – are retailed in the chilled section, next to the eggs.
"The SuperLock® pack is new to the American market and therefore it is a good match for a new product category," explains Marc Gascon, owner and co-founder of CleverFoodies. "The lid differentiates our products from others, and its oxygen barrier gives us the desired shelf life.
How are industry innovators meeting consumer needs? Be sure to go here to see the top related-trends for food packaging according to New Hope Network.
"Our success rests on bringing something new, natural, and tasty to the egg section in the counter. We have a partnership with leading egg distributors, and we have the right pack that lets us use clear and colorful illustrations and leaves space for cooking instructions. We are pleased with the SuperLock® format, which is eye-catching and conveys the quality of our product."
Scramble™, which is so unique that it has created its own new product category for convenience food, has been attracting customers in more than 3,000 supermarkets across America, including SuperTarget and Publix. It has even appeared on the weekly TV series Power Pitch on CNBC, where founders of start-ups try to convince a panel of experts that their business has the necessary ingredients for success.
PACK EXPO Las Vegas and Healthcare Packaging EXPO (Sept. 27-29, Las Vegas Convention Center) will reunite the packaging and processing community, offering new products, technologies and solutions, while implementing up-to-date protocols for a safe and successful in-person event. Attendee registration is now open.