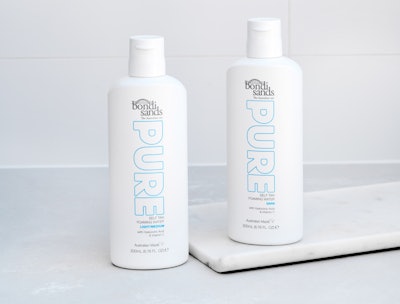 Bondi Sands, an Australia-based self-tanning brand inspired by that country's most well-known beach, has launched a new range of products under the Pure name that use a metal-free, 100% recyclable foam dispenser. The application uses Silgan Dispensing's first foaming solution, the EZ'R foamer, which is made entirely from plastic components, including 97% polypropylene, and is recyclable in PP streams.
In addition to its eco-friendly design, the EZ'R foamer was selected by Bondi Sands for its simple, easy-to-use dispensing capability, which requires no priming and creates propellant-free foam. The EZ'R also allows for one-handed upside down use. The foaming engine is made from 50% fewer components compared to traditional foamers, making it 52% lighter. Additionally, notes Silgan, the EZ'R dispenses twice as much foam than a traditional foamer.
---
See: Henkel shaking up detergent packages

---
Bondi Sands' Pure Self Tan Foaming Water, in Light/Medium and Dark varieties in a 6.76-oz bottle, uses an EZ'R foamer with a 26-mm neck size and a snap-on attachment. The foamer is assembled with a flip-top cap and is produced via extrusion blow molding.

The Bondi Sands' Pure Self Tan Foaming Water range was launched in early January in retailers throughout the U.S., the U.K., Australia, and New Zealand, as well as on its website for US$27.

Companies in this article