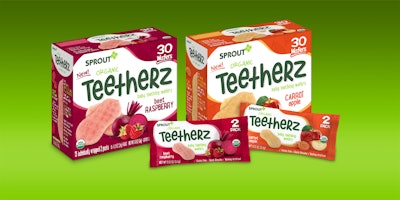 Baby food company Sprout Organic Foods has entered into the high-growth rice-based teething biscuit arena with bold packaging and unique product flavors. Positioned as a "perfect starter snack for babies," Sprout Organic Teetherz capitalizes on the demand by parents for nutritious, clean-eating options.
The Sprout Foods team selected The Biondo Group to create a dynamic brand presence with its packaging to visually stand out on the already-crowded organic baby-snack shelf as well as in the online environment. It was also essential Sprout Organic Teetherz fit within the overarching Sprout branding system, designed for its pouched baby foods and line of snacks.
"The packaging is designed to reach out, and in a digital millisecond, visually communicate the product's uniqueness—its compelling story. Appetizing carrot-orange and raspberry colors with imagery of real fruits and veggies call out the distinctive, natural flavors. Our team illustrated a prominent white silhouette to frame the Sprout Organic Teetherz identity; this form echoed the wafer's shape, highlighting the product's 'easy-for-baby-to-hold' benefit," says Charles Biondo, founder of The Biondo Group.
Sprout Organic Foods and The Biondo Group have an ongoing partnership. Biondo has developed several brand extension systems for Sprout, including Sprout Smoothie, a line of yogurt and coconut products that was also introduced in 2019.
Companies in this article