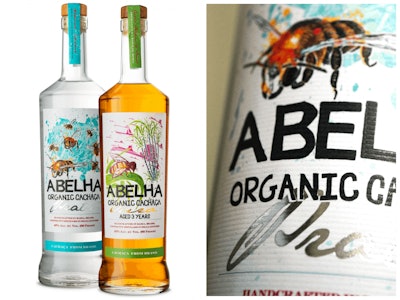 Adding to its digital printing arsenal is Grace Imaging. An industry leader in the custom label market, the firm has installed its third Epson SurePress®digital label press, expanding its label printing offerings for customers in a variety of markets, including wine and spirits, food, beauty, and more. After working with two Epson digital label presses for the past five years, Grace Imaging purchased and installed the SurePress L-4533AW to keep up with demand and provide distributors, brokers, and resellers with high-quality, custom embellished labels, including foil stamping and embossing, using a variety of media.
"Due to the increased demand for larger runs, we needed to invest in larger equipment that would complement our lean manufacturing lineup," said Robert Petrie, founder, Grace Imaging. "Having two existing Epson label presses, we knew we could trust the state-of-the-art equipment, speed, and efficiency that Epson's digital label presses provide."
Epson's L-4533AW digital label press is designed to deliver the high-speed printing, precise quality, and color gamut required for brand-quality color prime labels and packaging. Featuring versatile substrate support, the L-4533AW prints on off-the-shelf materials up to 13" wide including uncoated, gloss and semi-gloss papers, film, and vinyl. Epson's industrial-quality inks are durable, water-based, resin-coated pigment inks that provide superior adhesion, plus water and abrasion resistance on most substrates.
When presented with the opportunity to create a unique label forAbelha Organic Cachaça, a new liquor being launched in the U.S. by The Responsible Trading Co. of Bristol, England, Grace Imaging was confident that with the combination of their advanced machinery, along with the expertise of employees, they could get the job done –accurately, on time, and on budget. The customer specified a new paper label material from Wausau Paper specially designed to wick away moisture from the bottle to prevent any tearing or peeling of the label. Called 60# White Latitude, it features fine embossed horizontal lines and is top-coated and optimized for digital printing.
Part of the process included press proofs, and the plate-free digital printing process, says Petrie, made such proofs easy. "When the customer saw them, he loved the way the ink lay down," adds Petrie. Grace Imaging also leveraged foil stamping in a second pass and embossing on a third. Both foiling and embossing are done on machinery from Grafik Maskinfabrik.
"We approached Grace Imaging as we needed someone with the expertise to handle delivering a unique label very quickly," said Tom Stockley, co-brand owner,AbelhaOrganic Cachaça. "Leveraging the Epson SurePress, Bob and his team were able to meet and exceed all of our needs, and help us create a beautiful, high-quality label that was on time and on target."
"Epson's digital label presses are superior for printing on texture stocks," said Petrie. "The inks seamlessly transfer on a variety of substrates, and that alone truly allows us to separate ourselves from our competition."
Companies in this article