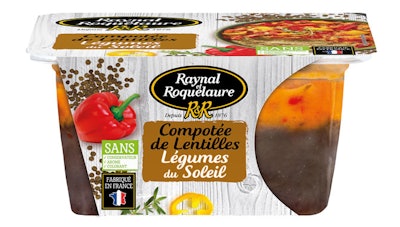 The company is introducing three unique recipes – Quinoa and Provencal Lentils, Lentils Compote and Vegetables from the Sun, and White Beans Puree and Butternut & Carrots – in transparent rectangular trays from its longstanding packaging partner RPC Bebo Plastik.
The thermoformed multilayer PP trays offer an ambient shelf-life outside the chiller cabinet of 18 months and can be microwaved in just two minutes, combining consumer convenience with effective product protection that helps to minimize food waste.
The 350-g tray is helping to create a more modern look for the Raynal et Roquelaure brand, which was first established in 1876, offering an alternative pack format to the traditional round boxes and jars more commonly associated with these types of products.
Equally important, the barrier properties of the tray have enabled the development of products without colorants and preservatives.
Companies in this article