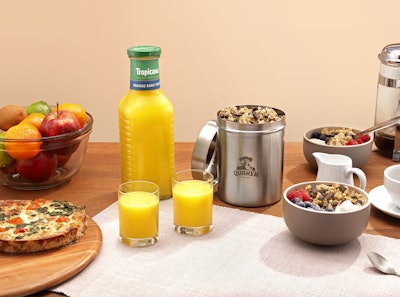 Parisian consumers will soon be able to enjoy PepsiCo's Tropicana Orange Juice in an attractive glass bottle and its Quaker Cruesli Chocolat cereal in a stainless-steel container as part of the new Loop circular shopping platform market trial from TerraCycle. The reusable packaging has been designed with premium, high-quality materials, resulting in "sleek vessels that can be put on display and blend into any environment, whether in the kitchen or on the breakfast table." That's according to Roberta Barbieri, Vice President, Global Sustainability of PepsiCo, who shares that Loop is one of a range of initiatives the company is exploring to reinvent packaging.
Says Barbieri, "Packaging sustainability is a complex and multifaceted challenge, requiring different approaches depending on the product, the market, and the consumer proposition, which is why we are pursuing multiple solutions as we work to achieve our sustainable plastics vision.
"Loop provides us with an opportunity to develop and trial an innovative solution in the reusable packaging space, which builds on the work we have been doing to reinvent our packaging. The partnership with Loop will also provide our consumers with a convenient way to engage with reusable vessels while reducing the environmental impacts of the packaging when compared to single-use materials."
PepsiCo has a history of partnership with TerraCycle. Most recently it worked with them to launch a potato chip-bag recycling scheme for its Walkers Crisps brand in the U.K. So when TerraCycle proposed Loop, PepsiCo was quick to climb on board.
The Loop project at PepsiCo was led by its Europe and Sub-Saharan Africa sector. The packaging for Tropicana and Quaker Cruesli was created by the company's in-house design studio, in collaboration with its marketing, operations, procurement, and R&D departments.
Says Barbieri, designing for reusability definitely added complexity to the process. "Because consumers naturally expect packaging that looks fresh and not tampered with, the packaging must go through an intensive cleaning process between each use and must be designed to be durable enough to meet expectations for multiple uses," she says. "Our design team worked hard to create durable vessels that remain undamaged and, of course, ensure no impact to the product quality throughout the reuse cycles."
In development for a number of months, the two packages use premium-quality materials and high-end design aesthetics. The glass Tropicana bottle uses side ridging to provide an enhanced pouring experience, while the stainless-steel Quaker Cruesli container is finished with a brushed effect and features a friction-fit, push-on closure to retain product freshness.
One of the exciting aspects of Loop, says Barbieri, is the added consumer convenience e-commerce will bring to reusable packaging. "Consumers will be able to have Tropicana and Quaker delivered direct to their door, and then the packaging will be collected and professionally cleaned after each use, making reusable packaging more conducive to modern living," she says.
The costs associated with the trial are one element of success criteria PepsiCo will be monitoring as the program is implemented, Barbieri says. "Trials like this help us to evaluate the future potential for reusable models," she notes. "We are excited to see what the reception from the Paris consumer will be as we assess further development opportunities."
Read more about Loop here.
Companies in this article