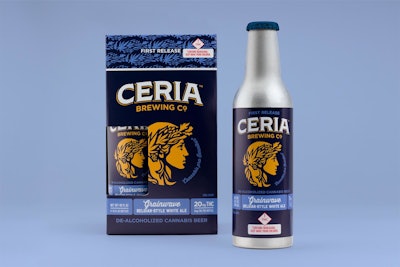 Launched in Colorado this past December by CERIA Brewing Co. of Arvada, CO, Grainwave contains 5 mg of THC and is meant to deliver the recreational high that other cannabis-based products now legal in Colorado are known for. It comes in impact-extruded aluminum bottles supplied by Exal. A 10-oz bottle sells for about $9.00. Graphics are delivered by way of a pressure-sensitive paper label. The bottles are also available in four-count paperboard cartons priced at about $36. Keith Villa, Co-Founder and Brewmaster at CERIA, hopes to expand distribution to California and Nevada soon.
Villa, it's worth noting, is the one who invented Blue Moon Belgian White Ale some 20 years ago, a beer still popular and owned by MillerCoors. For CERIA Grainwave, traditional brewing techniques are used, including high-quality malts, hops, and spices. Then the alcohol is taken out and cannabis extract is carefully added so that the precise amount of THC is in every beer. CERIA Grainwave contains 5 mg of THC. Soon to join Grainwave in cannabis dispensaries, says Villa, is an American lager with 3 mg of THC and an IPA with 10 mg of THC.
The firm's mission is neatly articulated on its Web site: "Beer has always had an essential role in our culture at the center of celebrations, connections, and even relaxation. Now, with the opening of markets and minds to the amazing experience of cannabis, we are marrying beautifully crafted beers with the magic of cannabis, proudly bringing into the mainstream an experience both happily familiar and entirely extraordinary."
Helping CERIA develop its entire brand system—strategy, identity, packaging, Web site, product naming—was Trinity Brand Group . Trinity developed a brand strategy for CERIA utilizing the familiar and popular associations of beer to create a brand proposition that would be accessible and relatable for all adult consumers. The brand's identity and look and feel intentionally cue a clear analogy to beer to make it easy for consumers to understand and integrate the products into mainstream usage occasions. The presence of beer-like packaging also stands out in the crowded dispensary environment, making it an easy choice for consumers potentially overwhelmed by cannabis product choice.
Worth noting is that the name "CERIA" is derived from Ceres, the Roman goddess of grain crops such as hops, barley, and cannabis. A dominant design element in the packaging is the profile of the goddess crowned by a garland of cannabis leaves and hops.
Trinity's packaging design system ensures that all three beer styles and THC levels are easily distinguishable from one another and legible from behind the dispensary counter and cooler. Packaging will adhere to all Colorado regulations including product tracking data and a THC warning and will initially be sold in single bottles.
"Our relationship with Trinity has been pivotal in getting our brand built the right way," says Villa. "I've known Trinity for years as an outstanding strategic and creative partner. With CERIA, they've helped us create a brand identity and design system that already feels iconic, and that we expect adult consumers are going to love."
Filling and labeling of the CERIA product line is done by Keef Brands, a Colorado-based producer and marketer of cannabis-infused beverages.
Companies in this article