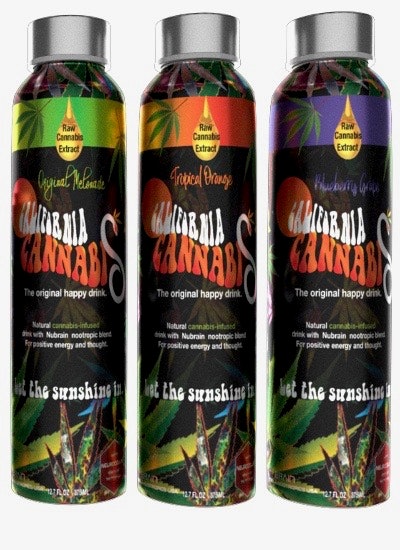 This is a firm that already had a range of nootropic products--drugs, supplements, and other substances that offer antioxidation and anti-aging benefits and may also improve memory, creativity, or other cognitive functions--before cannabis emerged the way it has in the past few years. With the ongoing boom in the cannabis industry, it was almost inevitable that the firm would hitch some portion of its wagon to the cannabis star. CEO Angela Kahn puts it this way.
"CBD [cannabidiol, which is extracted from the flowers and buds of marijuana or hemp plants] has been proven to have beneficial properties that align with and complement the properties of the products we already offer. So why not create a beverage that includes 10 mg of raw organic cannabis extract in addition to the Neurocellin patented plant stem cell technology already in our nootropic backbone? We think Nubrain California Cannabis is unique."
An injection stretch/blow-molded PET bottle was selected for a number of reasons, one being availability and cost. Also appealing is that it differentiates Nubrain California Cannabis from all the energy drinks that are in cans. And since this beverage is non-carbonated, gas barrier properties were not essential.
Filling of the bottles is outsourced, and it takes place in both California and Switzerland. "Our intention," says Kahn, "is to go global." She adds that this product is very low in THC, the psychoactive ingredient in marijuana that produces the feeling of being high. That means this is not a product intended to deliver the recreational high that other cannabis-based products now legal in states like Colorado and California are known for.