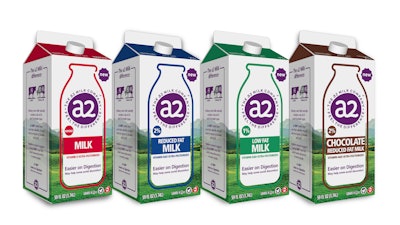 With its trademarked "Love Milk Again" slogan, Sydney, Australia-based The a2 Milk Company is expanding its U.S. presence with its line of a2 Milks that are marketed as easy to digest and may help some people avoid discomfort when drinking the beverage.
The company says its product's differentiation lies in the fact that ordinary milk from cows contains both A1 and A2 beta-casein proteins. In this instance, a2 Milk comes from cows that naturally produce only the A2 protein (hence the company name).
"We take great care to bring you milk naturally free from the A1 protein from cow to cup. Our cows have not been treated with growth hormones, rBST, or antibiotics. All of our family farms are independently certified by the Validus Group to ensure we meet strict animal welfare guidelines," says the company.
Packaging plays an essential role in delivering a2 Milk, with spouted gabletop cartons from Evergreen Packaging. The cartons use color graphics to differentiate Whole (red), 2% Reduced Fat (blue), 1% Low Fat (green), and 2% Reduced Fat Chocolate (brown) milk varieties. Graphics on carton side panels describe the a2 Milk difference. The milks are available in almost all 50 states and the District of Columbia.
"The growth that The a2 Milk Company has experienced since launching its U.S. expansion in January represents a true validation of our consumer proposition," says Blake Waltrip, CEO of The a2 Milk Company U.S., located in Boulder, CO. The a2 Milk Company works with local U.S. dairy farmers to identify cows that only naturally produce the A2 protein type and process their milk separately, making it possible for those with sensitivities to enjoy real cows' milk.
Consumers can now find a2 Milk at more than 1,000 Food Lion stores throughout the Southeast as well as at select Walmart and Costco outlets, with Costco selling a three-pack. Other major grocers carrying a2 Milk products include Wegmans, Stop & Shop, Giant Carlisle, Giant Landover, Whole Foods Market, Market Basket, Sprouts, Safeway, King Soopers, Target, Ralphs, Publix, ShopRite and The Fresh Market.
Cartoned milk in the U.K.
Meanwhile, a2 Milk was recently launched in the U.K., packaged in 1-L Pure-Pak® cartons from Elopak, via a major new processing deal with Elopak customerCrediton Dairy.
Tim Smiddy, Managing Director of CreditonDairy, in a discussion with Elopak noted, "With the heightened awareness around plastic packagingwaste we are seeing a lot of interest in switching frombottlesto cartons. a2 Milk wanted tooptimize the messaging of the product through thesustainabilityof the cartons, therefore they specified that allmaterials used must be sustainable with all renewable PE."
Crediton used existing Elopak ESL filling technology for a2Milk, with products launched onto shelves in the U.K. at theend of September across all key supermarkets.
"This is the most value-added milk in cartons on U.K.supermarket shelves and gives consumers more optionsand alternatives to standard cow's milk," adds Smiddy."With consumers becoming more enlightened to packagingsustainability and its environmental impact, the new cartonis responding to a rising expectation for more sustainableand recyclable packaging. We expect to see a gradual shiftof more products in the dairy sector moving away fromplastic packaging to cartons."
Companies in this article