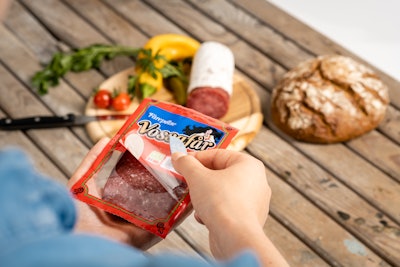 One of many recognized causes of consumer food waste is improper storage of products—in particular, refrigerated foods. With the new packaging for its Vossafär sliced, cured meat, Norway's Orkla Group invested two years in developing a structure that would alleviate this problem. Orkla's existing packaging was a flexible-film thermoform. While the pack did have an easy-peel opening, it was not resealable.
Orkla's partner in the project was Mondi. It was charged with creating a reclosable structure that could run on Orkla's existing thermoforming line with a minimum of modifications. At the outset, Orkla ruled out using a standard reclosable film on the top of the package, as it would be difficult for consumers to line up the top web with the bottom flexible-film web.
Mondi's challenge, therefore, was to develop a custom, resealable, multilayer barrier film for the top web that would resist curling at the temperatures used in Orkla's thermoforming line. Its solution was a structure very similar to Orkla's existing package, but with a resealable label incorporated into the top film web. Users peel back the label, take the portion they want, and then reseal the pack by pressing down on the label.
The innovation lies in the use of the resealable label with a flexible bottom film web. Usually, a system such as this using pressure-sensitive adhesives requires a rigid bottom web to enable satisfactory opening and reclosing. Had Orkla gone this route, it would have been more expensive, given the use of a rigid bottom web, and it would have required extensive modifications to its production line.
As Pål Wikstrøm, Regional Sales Manager Nordic, Consumer Goods Packaging, for Mondi explains, much of the work on the Vossafär pack took place at Mondi Styria, a film extruding plant in Austria. And it's here that Mondi produces the top web, which uses a specially developed and proprietary multilayer laminating film that offers "outstanding" temperature stability, and the flexible bottom web.
Mondi is supplying Orkla with all of the components of the new pack, Wikstrøm says. "This means a top web with a pre-applied reclosable label on one reel, as well as a separate bottom web," he explains. "This complete system approach ensures there is no need for Orkla to invest in label application and that all components are fully compatible. And, the production lines making the package run at the same speed as before, with only minor adjustments."
Orkla introduced the package for its Vossafär sliced, cured meats in the first half of 2017 in a 91-g and a 120-g size.
Companies in this article