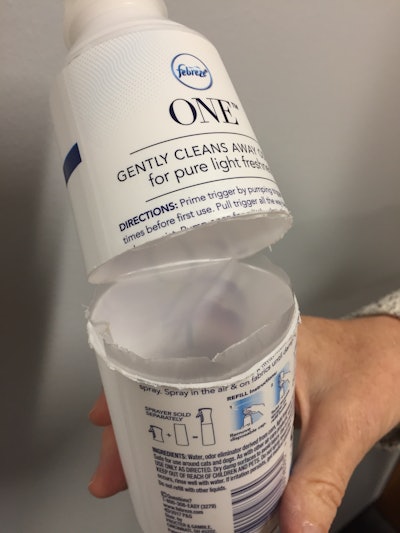 Among the Diamond Award Finalists was Febreze One from Cincinatti-based Procter & Gamble. One of the best known brands in the P&G portfolio, Febreze encompasses a number of odor-eliminating consumer products in packaging formats ranging from plug-ins to aerosols to trigger sprayers. Now comes Febreze One, whose unique two-in-one formula makes it a double-barreled household aid: Use it for removing odors from the air, as consumers do with a metal aerosol can of Febreze Air Effects, or to remove odors from fabric, as consumers do with a HDPE trigger-spray container of Febreze Fabric Refresher.
In addition to its cross-over functionality, Febreze One features Flairosol dispensing technology found in neither the Air Effects aerosol can nor the Fabric Refresher trigger sprayer container. It is this dispensing technology that helped the package win a Dow Award. Also impressing the Dow judges is the fact that Febreze One is a refill concept aimed at minimizing packaging waste.
Let's examine the composition of the package, which comprises several parts:
• injection-stretch blow-molded PET container
• full-body shrink sleeve label
• spray head/dip tube/compression chamber; by far the most complicated component, it consists of some nine parts, though as we'll see in a minute, it's designed for many uses
• inner polyethylene bag that holds the 300 mL of liquid product and that gradually collapses around the dip tube as product is dispensed so that minimal product is wasted
This Febreze package and its Flairosol dispensing technology represent the latest refinement of a patented technology platform from the Dutch firm AFA Dispensing. For nearly 20 years AFA has offered a trigger spray dispensing technology that produces a fine mist much like an aerosol but without any need for pressurized gas.
In some ways the Flairosol spray head on Febreze One,with its trigger activator and dip tube, is a version of a regular trigger sprayer. Where it differs is that most trigger sprayers use a piston to bring a small amount of fluid up into a very small compression chamber. The compressed fluid is sprayed out of this chamber. In contrast, the AFA technology has a much larger compression chamber that is always full of compressed fluid. So there's no need to prime the compression chamber with multiple squeezes of the trigger before product comes out. The term AFA uses to describe the chamber is "pre-compressed." This compression chamber is always charged and ready to dispense a fine mist, at any angle, when the trigger is squeezed. The spray is so prolonged with just one squeeze and the mist is so much finer than that of a trigger sprayer that it's more like spraying an aerosol than a trigger sprayer. But unlike conventional aerosols, there are no chemical propellants. At a time when so many consumers prefer a "clean label," this is a big deal.
As for the reduction of waste, another high priority with consumers these days, P&G offers consumers a "starter kit" consisting of one filled container with spray head attached. Displayed on shelf beside the starter kit are refill containers that have a simple threaded closure on top. The spray head does not go into the landfill. Consumers twist it off and twist it onto a refill container, which is the exact same bag-in-bottle format as is used in the starter kit. "The spray head is designed to be used thousands of times," says P&G's Su Chang, Associate Director, Global Home Care R&D. "It's a complex piece of engineering and a high-performance piece of this particular delivery system."
Although the PET bottle and its polyester shrink sleeve label are eminently recyclable, the package does not carry the "1 PETE" code on the bottom. Instead it has a "7 Other" code. Because the PE inner component is affixed top and bottom to the PET bottle, the container is considered a mixed material. Chang notes that if the bottle goes into the PET recycle stream, the PE inner bag would be separated by the standard grind process. But because the two components can't be easily separated by the consumer, the container is deemed a mixed material.
Blow molding the body of the container is not unlike conventional two-step injection stretch blow molding of any other PET container. One big difference, though, is that during injection molding of the preform, the inner PE bag must be affixed to the inner geometry of the neck and attached to the base, as well. Chang says some special injection molding equipment from AFA is what accomplishes this.
"We use a two-step preform molding process," says Chang, "where you first injection mold the PE bag and then in the same mold you overmold the PET around the bag."
Blow molding on a linear system from Italy's Sipa is next. "We brought in Sipa for this task because they have a blow molding platform that is very good at controlling material distribution and flow, which is critical to this process." Such control expertise is no doubt doubly important when you consider that both a PE inner component and the PET outer component must both be stretched and blown.
Once blowing is complete, the PE bag material is essentially laminated to the PET sidewall. But the two must be delaminated because the idea is to have the inner bag collapse around the dip tube as product is dispensed to minimize the amount of product that gets left behind as waste. So special delaminating equipment had to be designed jointly by AFT, PA Consulting, and P&G. Chang explains how it works.
"If you look closely at the bottom of the bottle," says Chang, "you'll see three little holes. What happens is we created specialized delamination equipment that pushes air through those holes to separate the PE bag material from the rigid PET sidewall. We then immediately push air into the bag from the top so that the bag is blown back out to the sidewalls again. But now it is cooled and, consequently, is delaminated from the PET sidewall. This Febreze One package is the first to be commercialized with this approach, but we're able to run different inner bag materials and different PET bottle geometries, so you'll see, in the next couple of years, new containers launching out of this platform." P&G and its development partners also came up with a 100% leak detection system that utilizes helium to detect any leaks in any of the bags, says Chang.
Febreze One began appearing on store shelves in the U.S. in early 2017 and is now available nationwide. A starter kit sells for $5.99. It's been hugely popular in other parts of the world, too. "Our 2018 launch in Japan involved absolutely the largest displays of any P&G brand launch ever," says Chang. "It's also worth pointing out that this was one of the fastest projects I've been a part of in 20 years at P&G. We went from concept to shipping product in about eight months. We relied on a supply chain out of Asia for our earliest shipments, but now we are producing out of our St. Louis P&G manufacturing site. The bottle behaves pretty much like any other PET bottle as far as filling goes. But we're still optimizing things like label application and torqueing of the spray heads, so filling speeds are not where they need to be just yet."
Labels, Chang adds, come from CCL Label. "The label has a subtle matte quality plus glossy elements that give the package great shelf presence," she notes.
Finally, well worth mentioning is that Fabreze One was also named Product of the Year 2018 in the Air Care category in the world's largest consumer-voted award competition for product innovation, a competition conducted by market research and consumer insight agency Kantar TNS.
Companies in this article