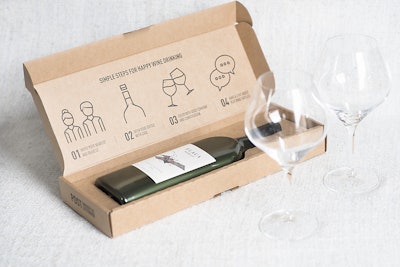 Innovation not just for innovation's sake, but driven by unmet consumer and industry needs: That was the inspiration behind Garçon Wines' Flat Wine Bottle for e-commerce, a uniquely shaped wine bottle that easily slides through the rectangular letterboxes found in the doors of U.K. consumers and businesses. For its ingenuity, this "flattened" 750-mL PET bottle, which not only facilitates the delivery of wine packages, but also features a number of notable sustainability improvements over round glass bottles, was recognized by Dow as a Diamond finalist in its 2018 30th Awards for Packaging Innovation.
"We didn't set out to create a flat wine bottle, we set out to find a way to deliver wine seamlessly into U.K. homes when the recipient was not there to take delivery in person," explains Santiago Navarro, CEO and Co-Founder of London-based Delivering Happiness Ltd., trading as Garçon Wines. "The idea was catalyzed by the need to solve a specific, clear problem of home delivery in the U.K."
The U.K.'s online retail association, IMRG, estimates that failed deliveries cost the industry around £780 million each year, while environmental experts say they result in 900,000 kg of carbon emissions generated from redelivery attempts by couriers or from consumers driving to Royal Mail collection points to retrieve their parcels.
Navarro says Garçon Wines explored a number of packaging options to eliminate failed wine deliveries, including bag-in-box or pouch packaging in a secondary shipping case that fits through the letterbox. "However, while these more obvious solutions achieved the functional benefits of seamless delivery, they completely missed the emotional benefits of a vessel that looked beautiful enough that it would be proudly placed on a dining table," he says.
After "weeks and weeks" of pondering the problem, Navarro says he had his eureka! moment. His idea was to flatten the bottle, or take a cross section of the wine bottle shape, so it would fit through a letterbox but still look like a traditional Bordeaux bottle in its proportions and in the shape of its shoulder and neck. "Respecting the heritage and tradition of wine meant we achieved maximum emotional benefits, while being functionally beneficial too," he says.
To bring the bottle design to fruition, Garçon Wines worked with RPC M&H Plastics. The project was not straightforward though, as Garçon Wines also wanted to construct the bottle using 100% recycled PET. While the use of rPET is not unique in the production of beverage bottles as a whole, it is rather rare for wine bottles, Navarro says. "Using virgin PET is cheaper and easier for bottle production, and it's my view this is why recycled PET has not been used to the extent it should be," he says. "In addition, recycled PET at 50-percent content and higher, and definitely at 100 percent, is not clear—it's slightly greyish and cloudy. I believe brands have been scared that consumers would react negatively to this, and so they've stuck with the crystal-clear option of virgin PET."
RPC M&H Plastics overcame the discoloration issue by making the bottles a natural olive green for red and white wines and a light pink for rosé wines. The rPET is mixed with an additive that prevents oxygen migration and assists in prolonging the shelf life of the wine. Navarro says the wine should not remain in the bottle beyond the recommended shelf life of 12 months to avoid oxidation of the wine. He adds that food-safe 100% rPET has been proven by multiple independent sources to not affect the taste of the wine.
While the 12-month shelf life is significantly longer than typically achieved with plastic wine bottles, Navarro admits it offers a shorter shelf life than glass. But that's okay; the flat wine bottle is not meant for luxury wines. "We're not catering to wines that need to be aged in-bottle," he says. "The finest wines that can benefit from bottle aging, such as a first-growth Bordeaux, should be bottled in glass and sealed with natural cork. However, this is just a very tiny fraction of the 33 billion bottles of wine consumed annually across the globe."
The flat bottle is 320-mm tall, about 2-cm taller than the round glass version of the same shape and volume after which it is modeled. Its shape and its use of plastic offer a number of sustainability benefits related to distribution, from vineyard to final consumer. Garçon Wines says the bottle is 87% lighter than an equivalent glass bottle, providing a reduction of greenhouse gas emissions during transportation, which may include fuel for both trucks and ships. Its plastic construction also reduces breakage, limiting waste, and, says Navarro, less energy is used per unit to produce a plastic bottle versus a glass one.
On the subject of shape, having two flat sides and being 40% spatially smaller, the bottle also significantly increases the cube efficiency of the packages during transport. According to Navarro, round glass bottles, stacked four levels high on a pallet, have a cube efficiency of 34.45%, meaning the total volume of wine on the pallet is 34.45% of the total cubic volume of the pallet. In contrast, the cube efficiency of a similarly stacked pallet of flat wine bottles is 50.77%. "This means our bottles increase the cube efficiency of wine in transport by 47 percent," he says.
Garçon Wines is eager to share its invention with all takers. The company began as a B2C brand for a U.K. wine club. With the creation of the flat wine bottle, it pivoted to become a B2B beverage packaging and wine wholesaler partnering with a growing global range of wineries, wine brands, wholesalers, clubs, and packaging companies. It is currently focusing on the consumer gifting space in the U.K., offering six varieties of wine via three e-tailers: Bloom & Wild, which pioneered letterbox flowers; Next Flowers, the online flower delivery division of a well-known U.K. retailer; and online consumer and corporate gifting company Gifted To You.
The wines are packaged in a corrugated, letterbox-friendly postal pack developed in collaboration with a proprietary British-based international packaging company. "It was developed primarily to deliver the wine safely and seamlessly through the letterbox," says Navarro. "To this aim, a fit in the majority of postal boxes was a must, and so we researched letterbox dimensions at a level that few others would ever do. It was also created to minimize the amount of packaging used and to ensure it was easily and fully recyclable after, as being eco-friendly is fundamental to everything we do. Finally, we care about the emotional, and so we designed our postal pack to be as attractive and appealing as possible."
But letterbox delivery is "really just the tip of the iceberg" for Garçon Wines, Navarro says. The company has global plans for the flat bottle, not only for use with wines, but also for spirits and other liquid food and drinks. "We've secured our intellectual property for flat bottles across 35 of the main wine-consuming and producing countries, and we've got plans afoot to enter key wine and spirits markets," he shares. He also notes that the company has "a couple of products in the pipeline" for in-store retailing in the U.K., the Netherlands, and Scandinavia.
Companies in this article