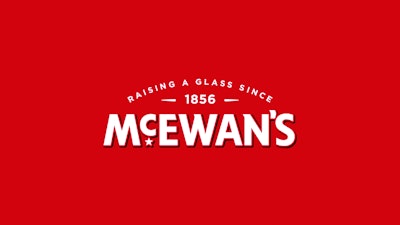 McEwan's, Scotland's number one ale brand, was relaunched in May by the new owner, Marston's PLC, with an exciting new look by brand design agency Butcher & Gundersen. Dating back to 1856, McEwan's has a long relationship with Scottish drinkers, but over the years had become relatively static and dated in its presentation while the rest of the category continued to evolve and develop at pace.
Faced with this challenging context, Butcher & Gundersen was challenged with redesigning the brand to better engage with modern consumers, with the project including a refresh of the logo and identity, packaging design, and retail activation. Initially rolling out across supermarkets and convenience channels, the redesign can now be found in over 400 pub locations across Scotland in the form of POS kits and a rebranded Export Draught keg lens.
Says Zeffy Dougekou, Creative Director & Agency Owner, Butcher & Gundersen, "When Marston's PLC acquired McEwan's, we were tasked with delivering a contemporary evolution of the brand that served a dual purpose of remaining sympathetic to heartland consumers while ensuring we offered a relevant and accessible option for younger drinkers and consumers who were less familiar with the brand. The liquid was never in question, but the design was lacking standout, having last been reviewed in 2013. During this time, the category and consumer have moved on, so we had a real challenge in developing a more modern presentation without pushing the design too far for the brand's loyal fan base. Leveraging the insights generated by the Marston's team, we rejuvenated the identity, including a redesign of the smiling cavalier with a newly added glass in hand accompanied by the celebratory 'Raising a glass since 1856' line, which reflects the warm welcome and generous hospitality of Scotland and reinforces the heritage of the brand."
Adds Gaynor Green, Marketing Manager, McEwan's at Marstons PLC, "The brand identity is fresher, and we have opened it up for a new audience to experience, while the McNIFICENT campaign has a great spirit and a bit of attitude."
The brand's bottled variants, McEwan's Champion, McEwan's 'Headspace' Whisky Edition, and McEwan's Export were included in the redesign, with the cavalier now living on the neck label to streamline the primary label design. Resulting in a more premium presentation, Butcher & Gundersen's collaboration with Marston's has delivered a more consistent and contemporary brand that is as relevant for McEwan's loyalists as it is for younger, more adventurous beer drinkers.
The McEwan's rebrand has been welcomed by the off-trade, new listings have already been agreed with several major multiples, and the new range began to appear on supermarket shelves beginning May 1, 2018.