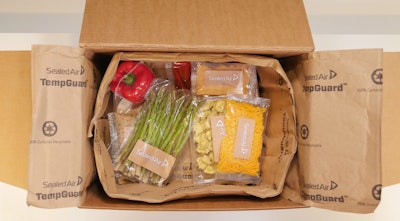 One e-commerce channel focused squarely on fresh food delivery that has had a meteoric rise over the last several years is the meal kits market. According to a report from Packaged Facts, "Meal Kits Delivery Services in the U.S., 2nd Edition," in 2017, the meal kits market was worth $5 billion.
"Meal kit delivery services are a specialized sector but a widely disruptive force in the food industry," says David Sprinkle, Research Director for Packaged Facts. "This space is the most striking example of the movement toward greater convenience in getting fresh foods to the consumer. And new approaches to fresh food groceries are [what] consumers are most interested in, and what will determine the winners and losers of the current food industry reset."
Given meal kits' growing consumer appeal, in 2016 CPGs Hershey and PepsiCo tested the waters, partnering with meal kit provider Chef'd to provide desserts and Quaker Oats breakfast-based meal kits, respectively. Last year, grocery retailer Kroger introduced Prep+Pared meal kits, featuring fresh, seasonal, prepped, and measured ingredients, available for purchase in stores and through ClickList, Kroger's click-and-collect online grocery service.
More recently, CPGs have invested in meal kit start-ups that give them direct access to consumers through home delivery. These include Unilever's $9 million investment in Sun Basket, Nestlé's minority investment in Freshly, Tyson's collaboration with Tovala, and Smithfield's $25 million investment in Chef'd.
While meal kits offer convenience to busy consumers and reduce food waste by pre-portioning ingredients, packaging has been a concern for both meal kit customers and providers alike. Namely, the amount required to contain all the premeasured ingredients as well as the insulation and freezer packs needed to keep them cold, much of which cannot be recycled.
But some meal kit companies are taking a more sustainable approach. One example is San Francisco-based Sun Basket. With a mission of generating zero waste, the company only uses packaging that is 100% recyclable or compostable for the 1.5 to 2 million certified-organic meals it produces each month.
Sun Basket's corrugated shippers are made from a blend of recycled and virgin fibers and are curbside-recyclable. Gel packs from Nordic Ice, formerly Temperatsure, are made from low-density polyethylene and contain a gel made from 98% water and 2% non-GMO cotton. After use, consumers can cut the gel-pack pouches open and drain the contents into the trash or a curbside compost bin. Pouch film can be taken to recycling centers that accept #4 plastic films. Plastic bags used to hold ingredients are also LDPE. For its containers, Sun Basket uses curbside-recyclable PET; its jars, with bases made of polystyrene and lids made of polypropylene, are accepted for recycling in some municipalities. On its website, Sun Basket offers links to resources where consumers can find recycling information for their area.
Sun Basket's newest packaging improvement is the use of Sealed Air Product Care's TempGuard™ insulation material. The thermal liner is created by filling kraft paper with a uniform inner batting made from recycled paper fibers. The porous, cellulose-based fiber filling creates a pad that not only maintains proper temperatures for up to 48 hours, but also cushions contents during handling and transit.
Until fall 2017, Sun Basket used 100% PET insulation, but it switched to TempGuard as it "views paper curbside recyclable as the most desired recyclable standard to meet due to the breadth of acceptance," says Michael Golub, Head of Strategic Initiatives for Sun Basket.
In addition to its recyclability, TempGuard is also thinner than Sun Basket's previous insulation material, which allowed the company to reduce the size of its shipping cases by 25% across the board while maintaining the same internal space for food.
Read the full E-Commerce Special Report, "E-commerce and packaging, from all angles"
Companies in this article