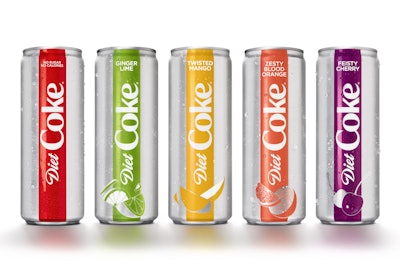 When an iconic brand goes through a major package redesign, there's always the chance of consumer backlash. Look no further than the bungled Tropicana brand refresh of 2009, which resulted in a 20% drop in sales and a $50 million loss for parent company PepsiCo. Two years ago, when The Coca-Cola Company set out to redesign its Diet Coke brand, it took care to preserve the elements that made the brand iconic in the first place, while presenting a bold, modern look for a new generation of fans.
"With a brand recast, designers are challenged with determining how far is too far, and how close is not far enough," shares James Sommerville, Vice President, Coca-Cola Global Design. "We set out to demonstrate progressive change and innovation with a look that would appeal to a consumer seeking bolder flavors, but without alienating the loyal Diet Coke fan base."
The project involved three major components: new graphics, a sleek, new 12-oz can, and four new fruit-inspired flavors—Ginger Lime, Twisted Mango, Zesty Blood Orange, and Feisty Cherry—in addition to original Diet Coke.
To preserve the heritage of the brand, the new design is anchored by Diet Coke's iconic silver color, but uses a simplified color palette focusing on silver and red, with the new varieties using bold color bands in place of the red that cue their unique flavors. A slightly refined typography simultaneously preserves Diet Coke's heritage, yet presents it in a more progressive manner.
"Visually it was important for us to pull through the essence of Diet Coke—the cues that come to mind whenever someone thinks of the brand—but through a distinctly modern look," says Rafael Acevedo, Group Director for Diet Coke, Coca-Cola North America.
The new look also features a dynamic asset Sommerville and his team named the "High Line"—a vertical red band that flows through Diet Coke packaging and into all communications, from outdoor advertising to social media. "The 'High Line' is a Coca-Cola red disc that has gone for a walk," Sommerville explains. "It visualizes how the Diet Coke brand, the innovation—and the consumers who love Diet Coke—are continually on the move, with confidence."
The new cans are the same shape and size used by Coca-Cola's Dasani Sparkling product. Says Acevedo, "Sleek cans provide a more premium feel for Diet Coke and its four bold new flavors, and they offer a more interesting drink experience for fans. They also visually represent an evolution of the brand's personality, standing taller and more assertive." He adds that new packaging equipment assets were required for additional capacity, but the new packaging lines mirror those used for Dasani Sparkling.
The refreshed Diet Coke brand began appearing on shelves in January 2018. The 12-oz cans are available in stores nationwide as on-the-go singles and in eight-packs; the original Diet Coke flavor is still offered in the same packaging formats as in the past, including standard 12-oz cans, mini cans, glass bottles, and more, all decorated with the new graphics.
Companies in this article