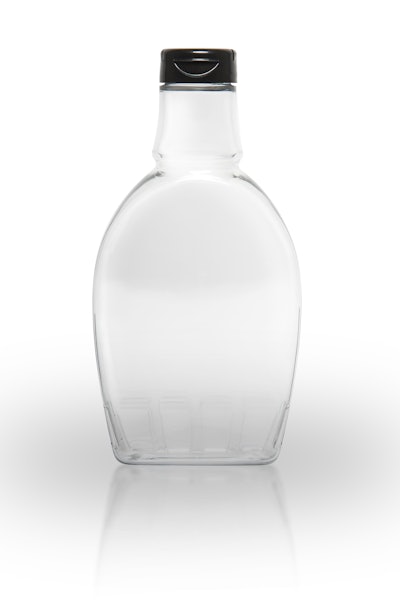 Butternut Mountain Farm, the Vermont Maple Sugar Company, a second-generation maple syrup producer, has been a leading purveyor of all things maple since opening its doors in 1972, but a request for a private-label maple syrup was a huge undertaking.
"Butternut Mountain Farm has the capabilities to produce, bottle, and ship our full product line across the globe," explains Emma Marvin, Business Development. "Our maple syrup can be found in all 50 states and England, Germany, Poland, and Japan. Of course, the packaging and distribution needs vary depending on the end locale of the shipment. When we are approached with special requests or distribution channels that are more complex, we have to re-evaluate our procedures and protocols."
Such was the case with a recent custom order. The sheer volume and logistical needs warranted a review––and ultimate redesign—of the maple syrup bottle.
"When we were approached about a special order of private-label maple syrup, we wanted to find a bottle design that could be integrated into our current production line," says Marvin. "We knew it was a lofty goal and were pleased to find a partner, Meredith-Springfield, that could help us accomplish it."
The melting point for glass is considerably higher than plastic, making it possible to bottle maple syrup in a glass container more readily without significant cooling time. Still, glass is considerably heavier and more prone to breakage. Ultimately, the decision was made to move forward with a plastic maple syrup bottle in a traditional glass shape but with a twist: the bottle needed to be clear. With no conventional supplier or sourcing of this variety of bottle, a custom solution needed to be designed. The added challenge? The bottle, of course, needed to withstand the heat of the syrup during the bottling process, maintaining its shape and meeting the strict quality requirements of Butternut Mountain Farm.
Meredith-Springfield President and CEO Mel O'Leary and his team endeavored to design a bottle that met all of Butternut Mountain Farm's goals and all of their customer's specifications. Priding himself on being a solutions provider and never backing down from a challenge, O'Leary took the Butternut Mountain Farm project home––to his kitchen. "The nature of the project necessitated it," says O'Leary. "Maple syrup is bottled while it's still hot. I had to see how the container would withstand heat."
The bottles were designed using blow-molded PET. PET's recyclability fit within Butternut Farm and their client's goals of improving owned-brand packaging sustainability.
Through a multi-stage process, the design was ultimately finalized and put into production. The maple syrup bottled in Meredith-Springfield's custom containers hit shelves right on schedule.
Companies in this article