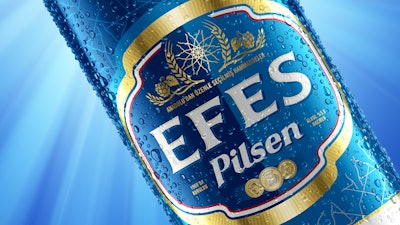 Turkish beer brand EFES from Anadolu EFES Group has received a packaging graphics update designed to bring back the authenticity and soul of the nearly 50-year-old brand and revive its status as the pride of Turkey. A staple in that country since 1969, EFES is crafted specifically for Turkish tastes, using only locally sourced, quality ingredients. But in recent years, the brand had seen a decline in sales due to stiff competition from craft and other beer brands, and its generic, lackluster packaging did nothing stop the slump.
In Turkey, packaging is the only tool beer brands have to market their product; advertising of alcoholic beverages is banned. This made the redesign of EFES of crucial importance, warranting distribution of the design brief to multiple creative agencies. None of them were able to meet the challenge in the six months required. At the last hour, Brown&co The Brand Collective took on the job and delivered on the design, artwork, and printing of the new packaging graphics within the six- to eight-week time frame given them by the brand owner.
Says Mark Luce, Group Marketing Operations Director for SABMiller, a minority stakeholder in Anadolu EFES at the time of the redesign, "I brought Brown&co into the EFES process at a relatively late stage, which meant extremely challenging deadlines. The quality of their strategic thinking and initial design iterations were of an exceptionally high standard. In my opinion, it is the best design work in beer I have ever seen and in a miraculous time frame."
According to Brown&co CEO and Co-Founder Dave Brown, in the years since EFES was introduced, "the soul had been stripped away" from the brand with its existing package design. "It looked like a generic piece of 'soft drink' brand identity work, losing a lot of that artisan craft and charm so synonymous with premium beer design," he says.
"EFES had been bringing people together to enjoy great beer since 1969 with very distinctive identity codes, so we needed to inject new life into that positioning with a 'back to the future' strategy," he adds.
The refreshed brand story and position delivers against three principles:
Real quality beer, crafted with years of brewing expertise, brewed using only the finest Anatolian ingredients (the provenance story)
Brewed to bring real friends together (friendship and bonding)
Brewed to appeal to real Turkish taste
Staking out a strong blue color for the brand, Brown&co retained little else from the existing design other than the color palette. The new graphics use as a central element an emblem, or cartouche, inspired by a historic label design from the late 1990s. Illustrations of golden hops and barley form a crest at the top of the emblem that surrounds a new 10-pointed star icon. The star uses a Tombul bottle shape and is influenced by a unique Turkish 10-point geometry system. The star is used to symbolize friendship and people coming together. This theme is also supported by a color scheme of two contrasting blues.
The 10-pointed star icon is also used as a background pattern, forming a tessellated mosaic texture that adds authentic Turkish detail. "Our ambition was to create the most beautiful-looking beer in the world that would become a timeless Turkish icon," says Brown.
The new design is used not only for the brand's mainstay Pilsen beer, but also for six other varieties, which use color coding to help consumers navigate the line on-shelf. As Brown explains, the portfolio hangs together cohesively but with distinctive differences per variant "to support the individual product truths."
The new EFES packaging design was launched in July in Istanbul. Until 2018, it was available only in Turkey; in 2018, it was introduced internationally.
Brown sums up the project: "Given EFES exists in the darkest of markets, the pack becomes a 24/7 on-air advertising opportunity. Our key objective was to reverse the decline of the brand and deliver sustainable growth. This is being achieved through the power of strategic design and thinking."
Companies in this article