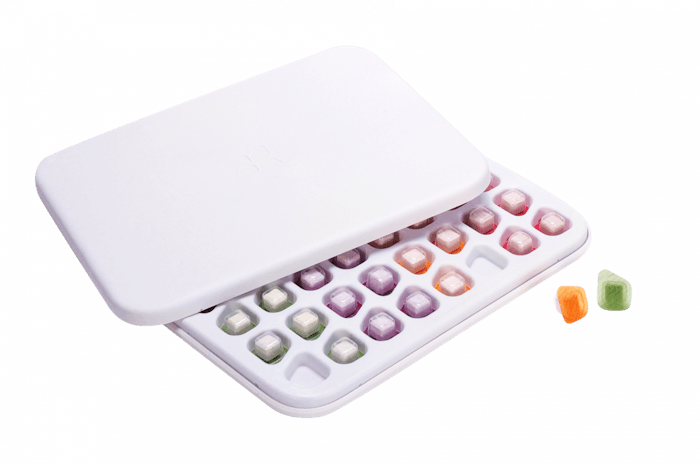 Austrian-based company Kvell is proving that the old adage "good things come in small packages" is true. It's waterdrop™ "microdrink," a 5-g cube of compressed powder that adds natural aromas, vitamins, and superfood extracts to a plain glass of water, is full of goodness, using the best and healthiest ingredients from around the world. Its packaging is equally as good, with aesthetics, ease of use, and sustainability at the center of its design.
The waterdrop cube is the result of two years of research and development by Kvell and its European partners that culminated in the product's release in January 2017. "It is a sugar-free microdrink that helps people drink more water by adding selected natural aromas, superfood extracts, and precious vitamins," explains Christoph Hermann, Kvell co-founder and Chief Design Officer. "Our mission is to empower our consumer to live a healthier lifestyle, drinking less of what isn't good for them. We're proud of the fact that our carefully developed product is also kind to Mother Earth—easily transportable, saving CO2 emissions, and just requiring water to drop it into."

From the beginning, packaging design was a crucial factor, Hermann says. "We wanted to put design at the core of waterdrop to make the product sustainable and aesthetically pleasing and to create a fantastic consumer experience."
With a modern, clean feel, packaging comprises a rigid plastic blister with lidding film that holds a single waterdrop. Multiple drops are then packaged in four-, 12-, and 48-ct cartons. The 48-ct Empowerment Box is especially notable: It is made from a starch- and fiber-based material from Netherlands-based PaperFoam that offers a range of sustainability benefits, including a light weight, recyclability, biodegradability, compostability, the use of renewable materials, and more. Says Hermann, "It just perfectly fits our brand promises."
A healthier, portable option
The idea for waterdrop came—as many new good-for-you products have—from an individual looking for a healthier beverage option. Explains Hermann, "Constantly on the move but determined to stay fit, our founder Martin [Donald Murray] was always hard-pressed to find a drink that wasn't full of sugar and filled in an unnecessary plastic bottle. So the idea was born to create a flexible and healthy drink that fits in every pocket, is sugar-free, and can be dropped into water, anytime, anywhere."

Waterdrop comes in four varieties, each catering to a different need state. Focus is made from lime, green coffee, and baobob; Boost includes blackcurrant, elderflower, and acai; Youth contains peach, ginger, and ginseng; and Defense is made from cranberry, rosehip, and moringa. Kvell only uses locally-sourced natural aromas and colorings and obtains its superfood extracts "from the very best resources" from all over the world, including Brazil, Asia, India, and Africa.
As Hermann relates, from the early days of the project, Kvell had several requirements for its packaging materials, including that they be sustainable and attractive and fit the consumer's lifestyle by being easy to use. Weight was also a key factor: "We wanted to invent a drink that could be ordered online and easily shipped without resulting in high CO2 emissions," he says.

For the primary packaging, Kvell decided that each waterdrop would be individually wrapped to offer consumers choice and maximum product freshness. The square blister holding the 5-g compressed-powder cube is made from a combination of PET and cyclic olefin polymer. "We ran an array of experiments with all sorts of other materials, including those that were bio-based and biodegradable," says Hermann. "As we require high humidity barriers to keep our product fresh, PET and COC was the perfect choice for us."

While the body of the clear blister is square, the lip has a stylized waterdrop shape. Each blister is covered with a peelable lidding film printed with the waterdrop logo and a background color that corresponds to the product variety: green for Focus, orange for Youth, purple for Boost, and red for Defense. When compared with a plastic water bottle, the blister uses 97% less packaging material.

For secondary packaging, Kvell determined the material that best met its aesthetic, sustainability, and weight requirements was PaperFoam. "It is unique, it is beautiful, it has a low carbon footprint, it saves water during production, and it is 100-percent biodegradable," Hermann says.

Multiple sustainability advantages
PaperFoam is a material made from industrial starch from potatoes or tapioca, natural fibers, water, and a proprietary premix. "The premix we use is a trade secret," says Thomas van Sintmaartensdijk, Business Development Europe for PaperFoam. "All I can say is that it's a binding agent and does not influence the environmental aspect of the material. The end products, including the premix, are certified bio-based, paper-recyclable, and compostable, both at home and in industrial facilities."

The production process for PaperFoam is similar to that of plastic injection molding, with the difference being that the tools are constantly heated, and it uses very low pressure. The process begins when the raw materials, including the starch, fibers, premix, color, and water, are mixed to create a slurry. The mixture is then put into a hopper and is hooked up to a molding machine, where low pressure pushes the mixture into a cavity. Once the mixture hits the tool, it starts to boil and fill the cavity completely. After all the water has evaporated from the mixture, the tool opens, and the part falls out onto a conveyor belt. In the last step, the part is checked for quality.

PaperFoam uses the same ingredients for all end-use applications, although it has several recipes that allow it to tweak certain material characteristics, such as strength, flexibility, and cushioning. Explains van Sintmaartensdijk, "The overall wall thickness and the design have the biggest impact on the strength and flexibility of a tray."

The waterdrop Empowerment Box, weighing 250 g, is made of three PaperFoam parts: a base, a lid, and an insert with 48 cavities to hold the individually wrapped cubes. According to van Sintmaartensdijk, there were several challenges that needed to be overcome with Kvell's help to achieve the functionality and aesthetics envisioned by Hermann.

The first challenge was how to design the inlay on the base tray so it could be handled easily on the assembly line. Because PaperFoam slowly dissolves when submerged in water, the company was able to wet the base and inlay with a small amount of water on a sponge to make them sticky. "Both the base and inlay are glued to each other by using just water," van Sintmaartensdijk explains. "This creates a very solid base for the packaging and gives a very rigid feeling to the assembly."

Another challenge was fitting the lid onto the base. Due to the unique properties of PaperFoam and its small tolerances, the company was ultimately able to create a tight fit of the lid on the inlay. The last was achieving color consistency between three different parts, produced from three different tools.

The Empowerment Box is a crisp, white color and is elegantly embossed on the top. Kvell uses a sleeve around the box for labeling and decoration, which allows it to seasonally adapt its packaging using "prestigious illustrators and graphic designers."

Packaging fits brand story
For Kvell, its waterdrop packaging has become an important part of its brand story. "We promote the use of our 100-percent biodegradable Empowerment Box as we are very proud to use special materials like PaperFoam," says Hermann. "Also, sustainability and the topic of helping people to a conscious lifestyle are essential brand assets. It is also part of our communications strategy and is often mentioned in press releases, social media posts, and conversations."

Since its release in 2017, waterdrop has been shipped via online sales to more than 15 European countries. Kvell operates six stores in Austria and is collaborating with exclusive retailers, including 600 shops throughout the country. In 2018, the company plans to concentrate on expansion into Germany, opening some stores there. Prospectively, it plans to expand outside of Europe.

"We get positive feedback every day," says Hermann. "After just 10 months in the market, we are very proud to say that we have a loyal consumer base already. And it is growing day by day. We are very happy waterdrop gives many people the power to reduce their sugar consumption while experiencing full taste and a brand-new lifestyle drink."

In 2017, the waterdrop Empowerment Box was honored with a Dieline Award for Outstanding Achievement.
Companies in this article