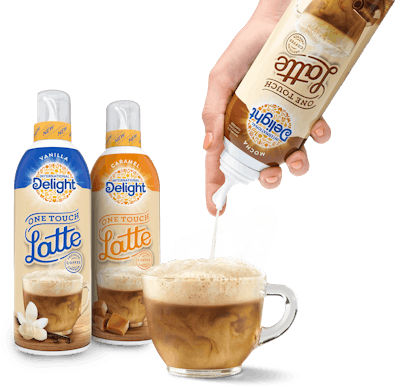 For a while now, coffee companies have been introducing retail products that bring the café experience home. With DanonWave's International Delight One Touch Latte, coffee lovers can create their own homemade lattes in vanilla, caramel, and mocha flavors. One Touch Latte is a flavored creamer in an aerosol can that foams when dispensed directly into the coffee.
According to Lauren Baum, Associate Brand Manager, International Delight, "One Touch Latte transforms ordinary, home-brewed coffee into a perfect, frothy latte in five seconds, just with the touch of a button."
On-pack instructions and YouTube videos advise consumers on the use of the product: Fill a cup 2/3 with coffee, shake the One Cup Latte can, and press firmly on the dispensing fitment, aiming into the coffee at a 45-deg angle for five seconds to froth. "This product experience should be significantly different than whipped cream," says Baum. "The dispenser's function is to actuate the valve directly below it and release the product in a forceful stream—one that not just penetrates the coffee, but also sweetens, creams, and froths all in one touch." International Delight declined to provide details on the structure of the fitment, as well as the supplier.
In development "for some time," according to Baum, the product is packaged in a 12-oz aerosol can with graphics developed by DanoneWave's internal creative team. She explains that the can color, a creamy beige, symbolizes a latte and creamed coffee. Flavor colors—brown for Mocha, Blue for Vanilla, and Orange for Caramel—found at the top of the can "are consistent with category trends." She adds, "Instructions were carefully researched with consumers to help us educate them about how to use this product."
One Touch Latte is available in grocery stores nationwide for a suggested retail price of $3.99 and can be found in the refrigerated aisle near the International Delight coffee creamer products.