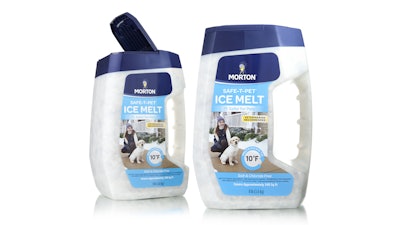 When Morton Salt introduced its Safe-T-Pet salt- and chloride-free ice melt product, the goal was to protect pets' paws from the skin burns that can result from the salt used to de-ice winter streets and sidewalks. Created with the help of veterinarians, the product was successful at both protecting their paws as well as eliminating the risk to their health from ingestion of traditional ice melt products.
Unfortunately though, Morton Salt wasn't as successful at preventing the product's packaging from damage. The packaging for Safe-T-Pet Ice Melt, an 8-lb handled high-density polyethylene container, had a closure that sat above the shoulders of the bottle but did not cover the entire top of the bottle. Because of this, when other bottles were stacked on top of the container, the top load would cause crushing in the shoulders, resulting in quality issues and returns. In addition, the handle was not ergonomically friendly, making it difficult for some consumers to comfortably pour the product from the heavy container.
In early 2015, Morton Salt approached Berlin Packaging to help them create a container that would improve its supply chain functionality as well as the visual presentation of the product. As Berlin Senior Account Executive Johanna Jost explains, Berlin designed a new closure that covers the entire top of the container to help distribute top load and prevent crushing. In addition, the durable HDPE container features chamfers from top to bottom that also help distribute weight more evenly.
"Because of the redesigned container's increased column strength, the company saves money by removing corrugated in the shipping pack outs," Jost notes.
The new design also includes a number of functional improvements, including a wider, grooved handle that easily accommodates bulky winter gloves and a custom polypropylene flip-top closure, which replaces the difficult-to-maneuver wide-mouth screw top that was used previously. The new closure also has a larger sifting feature that allows more salt to flow out of the container during dispensing.
While the new package is more robust for the retail supply chain, the redesigned die-cut pressure-sensitive label offers pet owners extra confidence, stating the ice melt is "Safer for Pets" and "Veterinarian Recommended." It also includes an image of a young girl with her puppy on a clear and clean sidewalk, showcasing exactly how the product works to allow pets to play freely.
The new 160-oz container is supplied by Humberline Packaging, while the new polypropylene closure is provided by Jatco. After Morton Salt switched its Safe-T-Pet Ice Melt product to the new container, it transitioned its other ice melt products, including Action Melt and Safe-T-Power, to the new packaging as well.
Companies in this article