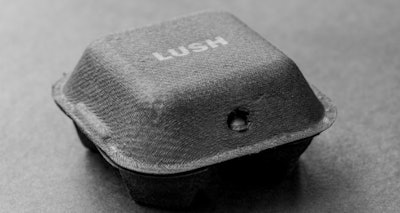 Lush Fresh Handmade Cosmetics and James Cropper 3D Products have collaborated to create a custom package for Lush's solid bath oil balls, aimed at enhancing the customer shopping experience in a practical and sustainable way. The package is made using Colourform™, a sustainable alternative to plastic and other packaging materials, with Lush's packaging comprising 100% recycled coffee cup fiber from James Cropper's own recycling plant.
From design to manufacture, Lush was able to draw upon James Cropper's 170 years of experience in innovation and expertise in colored paper and fiber products. The collaborative approach ensured the creation met aesthetic requirements while overcoming potential technical challenges, such as the material's ability to withstand the moisture of products.
The square, hinged-clamshell container is segmented into four sections, allowing consumers to "pick-and-mix" Lush's solid bath oil products in the store, carry them home, and then reuse their box on their next visit to the Lush store. The package is fully recyclable with household paper and is also naturally biodegradable.
Says Kirstie Maclean, a member of the R&D/Brand Production team at Lush, "The challenge for this project was really set by the need to elevate the customer experience when shopping our bath oil category, coupled with sincere considerations around waste, single-use materials, and functional design. James Cropper was the ideal choice—a British mill enthusiastic to embark on developmental projects and push innovation. The relationship has been open and supportive. The outcome—a slick, sustainable, lightweight, and transportable box to allow the customer a 'pick-and-mix' experience with the products."
The reusable packaging was introduced online and to major U.K. stores in September 2017, with a global rollout following.