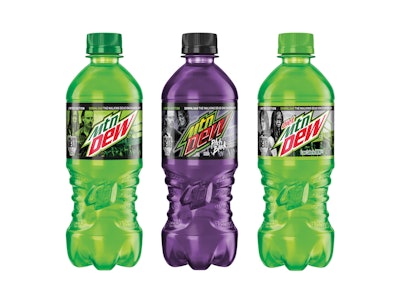 A recent partnership between Mountain Dew and AMC brought characters from the TV channel's exceptionally popular show, "The Walking Dead," to life…in a manner. Through an augmented reality app, consumers were able to experience some of the show's most iconic zombie walkers in their own real-world environments and then share the interaction via social media.
Launched Sept. 6, 2017 and culminating with the series' 100th episode on Oct. 22, 2017, the nationwide campaign featured in-store and on-pack branding on more than 100 million Mountain Dew products. The limited-edition packaging featured images of some of the show's iconic characters, including Rick Grimes, Michonne, and Daryl Dixon, on all single-serve 20-oz bottles and on 12-ct cartons of 12-oz cans of Mtn Dew, Diet Mtn Dew, and Mtn Dew Pitch Black. Using "The Walking Dead Encounter" app, available on both iOS and Android devices, consumers were able to scan the front of the packaging to unlock walkers.
"Mountain Dew has some of the most loyal fans that make up Dew Nation, and we're always looking to form partnerships that will deliver one-of-a-kind, authentic experiences for our fans," says Chauncey Hamlett, Senior Director of Marketing for Mountain Dew. "AMC's 'The Walking Dead' has a similar, extremely passionate fan base, and by bringing the two brands together, we formed an exciting program that showcases two fan favorites."
The campaign was under development for a year, beginning with Mountain Dew's request for proposal to find the perfect partner to bring the program to life. "Once AMC and 'The Walking Dead' was identified, each element of the partnership came to life, from designing the custom packaging to finding the right technology to create the augmented reality app," explained Hamlett.
AR technology was developed by Trigger for the campaign with the objective of consumer engagement, rather than data capture for the brand owner. Explains Hamlett, "We aimed to provide a fun and authentic experience to our fans and thus did not want to disrupt their experience with the app with data capture."
A total of 20 zombie walkers could be unlocked throughout the campaign, either by scanning the specially-marked packaging or scanning Mountain Dew commercials aired during episodes of "The Walking Dead." Once the zombies were unlocked, the app would look for surfaces the walkers could stand on, and the user could turn them appropriately. "Users could walk around the room, making it feel like the walker was living in their environment," says Hamlett.
At the time of the launch, Scott Collins, President of Advertising Sales for AMC Networks said: "This is a meaningful first-of-its-kind partnership for 'The Walking Dead,' but most exciting of all is that the fans are at the center of it. With our partners at Mountain Dew, we've built something that includes extensive visibility for our series, closely aligned with their product, and the augmented reality app merges the real world, the world of the show, and a popular beverage in an incredibly powerful and sharable way. This level of partnership and commitment would be notable for any television show, but that it is happening headed into the eighth season and 100th episode of 'The Walking Dead,' is remarkable and demonstrates the enduring appeal, urgency and reach of this iconic series."
Companies in this article