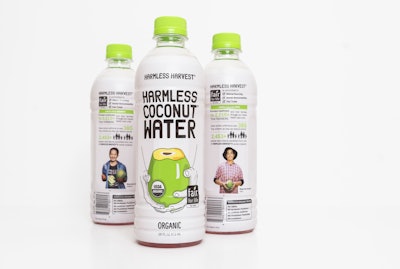 Harmless Harvest, a San Francisco-based company offering organic, Fair for Life-certified coconut water sourced from Thailand, has introduced special-edition packaging that highlights two of its Thai farmer partners. Harmless Harvest was launched in 2009 with the goal of creating a positive impact on the world through its business. Company CEO Giannella Alvarez says Harmless Coconut Water is the first to receive the Fair for Life certification, which combines strict standards for social accountability and fair trade for socially responsible companies. It ensures that a company is committed to paying fair prices for goods as well as supporting the wellbeing of local communities. Harmless Harvest's limited-edition packaging brings that message home.
"We were inspired to tell the story of our farmers who make our product possible," says Alvarez. "There is so much happening behind the scenes to make our Harmless Coconut Water. We wanted to share the story of our famers and the progress of our Fair for Life initiative with our consumers."
The new graphics, added to the back of a shrink-sleeve label adorning a 16-oz PET bottle, were created by Harmless Harvest in-house designer Maria Bruno. There are two label designs, each featuring a different Thai farmer: Yotin Ongthong and Jiraporn Malapirom. Along with their pictures is an infographic detailing information on Harmless Harvest's Fair for Life program accomplishments, such as providing healthcare for 2,215 Thai farmers and their families since 2014 through its mobile healthcare units and giving school uniforms to more than 385 Thai children so they can attend school, among other achievements.
"We provide insights into how and why we provide fair wages, healthcare, and well-being assurance for every farmer and employee both abroad and in the United States," explains Alvarez. "By utilizing the back panel of our bottles, we can capture this information through this new text and intrigue consumers to read on by showing the real-life people they are helping when buying our coconut water."
Alvarez says that in the past, consumers have been interested in what makes the company "Harmless"; the bottles help them tell the story. She shares one consumer's feedback: "Now I can see how buying this product helps me feel like I make an impact in the world with my purchase."
The special-edition bottles were introduced in July 2017 and will remain in the market through the fall. Harmless Coconut Water is available nationwide at retailers that include Whole Foods, Walmart, Costco, and others.