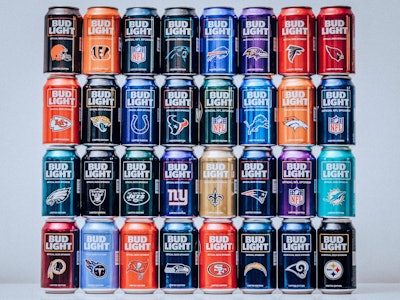 Just in time for the return of the NFL season, Bud Light has announced that it will continue its tradition of NFL team-themed packaging. This season, Bud Light will be available in both cans and aluminum bottles specifically designed to help football fans celebrate their favorite team. In total, there will be 28 new designs to celebrate 28 NFL teams across the country and a special 36-pack with all 32 NFL teams represented.The updated looks are already on shelves in certain markets and will be available nationwide in late August 2017.
This year's team can and aluminum bottle design prominently features each team logo as well as a catch phrase or rallying cry for each NFL franchise. Additionally, each can will feature Snapcodes. When consumers take a photo of the Snapcodes using Snapchat, it will unlock a chance to win Super Bowl LII tickets, an interactive Bud Bowl-style game and team-specific Snapchat filters.
"NFL team packaging has become something fans look for from Bud Light year after year," says Anna Rogers, Director of NFL Partnerships and Strategy, Anheuser-Busch. "We are proud to continue that tradition and give fans another way to support their favorite teams while enjoying NFL football with their friends. We are also very excited to roll out NFL packaging on aluminum bottles for the first time in addition to cans."
Bud Light is the official beer sponsor of the NFL.