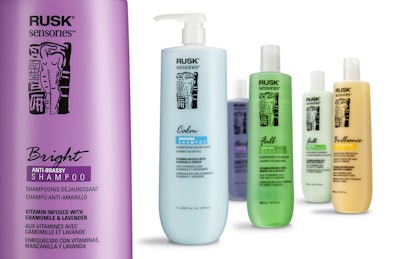 Conair was ready for a makeover. The formulas for its Rusk Sensories shampoo and conditioner line had been improved, but the packaging still carried a timeworn look. Existing packaging had a shape reminiscent of a soda bottle, with a low, pinched waist and flared base. Conair wanted something as fresh and invigorating as the new product inside.
Seeking a quick, noticeable difference from consumers, Conair asked Berlin Packaging's Studio One Eleven design division to renovate its package. The studio began its work with a store audit that indicated Sensories could own its natural botanical positioning at retail, plus add shelf presence, with a wider bottle that shifted from a round cross-section to an oval. To claim even more attention visually, designers suggested a tall, straight, and tapered package that would occupy every vertical inch of shelf space and keep its translucent material to showcase the product inside.
To further modernize the package, Studio One Eleven redesigned the label by enlarging and offsetting the brand's signature "Picasso" graphic. Designers then added white space, bannered each fragrance name in script, and created a typographic hierarchy for the secondary descriptors.
In a first for the line, the 1-L and 33.8-oz Back Bar SKUs now carry a pump dispenser for quick, one-handed use. The smaller 13.5-oz consumer version retains the polypropylene toggle-disc top used in the previous packaging.
Conair's new package for Rusk Sensories has given it the boost it needed, Studio One Eleven says. The refresh gives the consumer a new reason to buy. The brand's tagline, "Reawaken Your Senses," has been given new life with the redesign.
Companies in this article