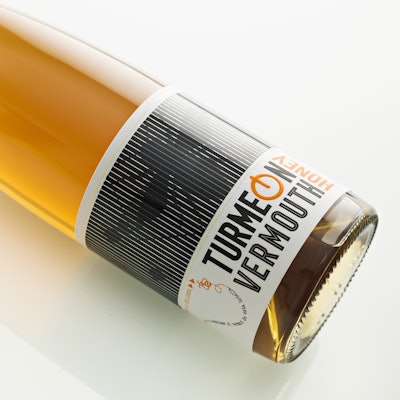 Spanish winery Bodegas Jaime is capturing consumers' attention with animated bottle labels for its vermouth varieties, with 80% of those picking up the bottle in a shop buying it. That's according to Martin Jaime, Manager of Bodgas Jaime and creator of the Turmeon vermouth line, who also says the dynamic label has caused a number of international distributors and importers to come knocking at the winery's door.
Since October 2015, Bodegas Jaime has introduced three vermouth flavors—Original, Blanco (white), and Honey—each with their own animated label graphic. Jaime, who designed the labels, says the inspiration for the effect was the zoetrope, a 19th century optical toy that consisted of a cylinder with a series of pictures on the inner surface that, when viewed through slits with the cylinder rotating, gave the impression of continuous motion.
"We knew we had a great vermouth, but for us, a really small company, we knew it would be difficult to announce it," says Jaime. "Also, in Spain, vermouth was considered an old-fashioned product—in a bad way—so we had to give our customers an excuse to taste it, and the label was a perfect one."
Bodegas Jamie came up with the brand name, Turmeon, as a play on words for "turn me on," when it discovered that several of its vermouth's ingredients were aphrodisiacs. Graphics for the Original variety speak to the mixer's aphrodisiac effect as well as attempt to appeal Millennials through the nostalgia of vintage games, with a Pac-Man eating hearts. Blanco, launched six months later, shows a leaping dolphin. The most recent variety, Turmeon Honey, was introduced in November 2016 and shows a bee beating its wings.
The illusion of movement is created through a kinesiogram, explains Jaime. The effect occurs when a paper label with a series of images is overlayed with a semi-transparent wraparound polyvinyl chloride label printed with vertical lines. When the consumer rotates the PVC label around the bottle, it creates the impression of movement—referred to as the Colin Ord effect.
Jaime says Bodegas Jaime decided on kinesiogram technology because of its low cost—approximately 3 cents more per PVC sleeve—and because it entices consumers to pick up the bottle and play with it. Suppliers of the label material are Coreti and Graficas Z.
Since introducing Turmeon Original in 2015, Bodegas Jaime has sold 35,000 bottles of the vermouth in seven countries, without any traditional advertising—just word of mouth and viral marketing. In April 2016, the Pac-Man label was presented with a People's Choice Award in HP Indigo's second EMEA Inkspiration Awards competition held in Tel Aviv, Israel.