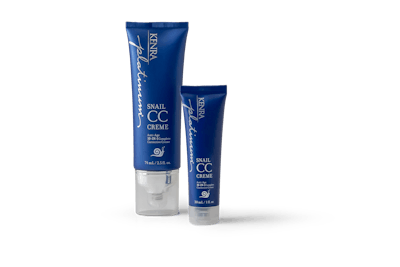 Indianapolis-based Kenra Professional, a provider high-performance hair-care products for the professional beauty supply industry, has introduced a first-of-its-kind product with packaging that conveys a premium experience. The new product is Kenra Platinum Snail CC Crème for hair, enriched with snail essence, an ingredient growing in popularity for skin care in Korean spas.
"With skin being so similar to hair, we thought it could benefit hair as well," says Stephanie Smith, Senior Brand Manager at Kenra Professional. "We began testing for multiple benefits such as frizz control, smoothness, and compatibility with color. We tested it with our in-house stylists, friends, families, and consumers. Even though initially the ingredient was strange to many, the benefits it had on hair sold the concept.
"We were able to complete the research fairly quickly, so when we were ready to work on the packaging, we needed a partner that could keep pace with us," she says. For this, Kenra chose its long-time packaging partner TricorBraun.
For the packaging structure, Kenra selected a 2.5-oz polyethylene tube from Korean supplier PBCOS and a 1-oz PE tube from Viva Healthcare Packaging. The tubes replicate the look of the premium, oval-shaped, airless tubes used for Snail CC Crème skin-care products. From there, Kenra sought to create a high-end look through graphic design for the Kenra Platinum packaging to differentiate it from the company's well-established Kenra Professional line, known for its silver packaging.
"We constantly strive for excellence," says Smith. "The largest obstacle we faced was choosing the color of the tube and matching it across multiple substrates." Kenra is planning line extensions for the snail essence product, so they needed a color that could be used on packaging for products such as shampoo and conditioner as well. After evaluating 27 different colors, Kenra chose a blue base color that conveys the mood and the upscale, classy appearance they were striving for.
In terms of artwork, the main graphic for the tube evolved from an abstract to a concrete one. Explains Molly Fuehrmeyer, Graphic Design Manager at TricorBraun, "Initially Kenra didn't want anything that looked too much like an actual snail, so what I developed was influenced by the shell shape or a Fibonacci spiral—a much more abstract look. Later it was decided that we collect different options of a realistic snail illustration, and in the end, that is where we landed."
Other graphic design challenges included understanding where the art would land on the package in relation to the curve of the tube and the crimp; scientifically and visually matching the blue on the different size tubes; and determining the visual appeal of offset- versus screen-printed art. Says Fuehrmeyer, "We ended up with a combination of silk-screened graphics in white on the front and back, and the words Kenra Platinum hot-stamped in silver on the front of the matte blue tube."
The 2.5-oz tube has a custom metal overshell on the collar and an airless pump dispensing system with a clear overcap. The 1-oz tube has a snap-on, flip-top closure and uses a squeeze-dispensing system.
Kenra Platinum Snail CC Crème was launched in Ulta in summer 2016. Says Tim Johnson, Liquid Supply Chain Manager at Kenra Professional, "Consumers have been receptive to the ingredient and love the product."
Companies in this article