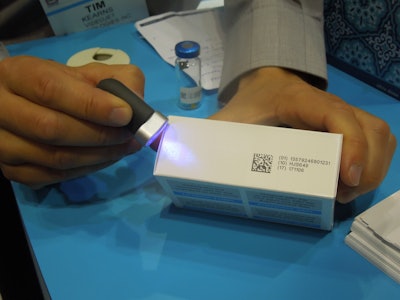 Technology is pushing the boundaries in the pharmaceutical and broader life science sectors, which was evident at the Nov. 6-9 PACK EXPO International 2016 and Pharma EXPO event, held in Chicago and owned and produced by PMMI, The Association for Packaging and Processing Technologies.
PMMI reports that the event was the largest show in its 60-year history, with a record-breaking 2,512 exhibitors spread over an unprecedented 1.25 million net sq ft of exhibit space that welcomed more than 47,000 targeted buyers. That made PACK EXPO International and Pharma EXPOthe world's largest and most comprehensive processing and packaging show in 2016.
For example, Amcor Rigid Plastics collaborated with Netherlands-based Confrérie Clinique, a provider of smart packaging solutions, to develop an innovative pill dispensing system that delivers drug compliance, user friendliness, child and senior safety, and connection to any smartphone for easy tracking and monitoring. The S.M.R.T. Bottle is a pill dispensing system that includes a clock-calendar function and unit-dose tablet detector. It registers the time and date and number of doses taken from the bottles and stores the data. Using devices such as Near Field Communication (NFC) readers, the information contained in the memory can be read, displayed, and transmitted to any smartphone.
The container combines the benefits of a blister pack and a bottle in one package. Its two-piece assembly can be designed for any pill bottle and existing filling lines with no changes required to the sealing process. Amcor injection-molds the PP insert, which is custom-designed to match the tablet geometry. The dispenser's electronic system, custom designed and built by Confrérie Clinique, counts pills going in or out of the bottle, tracks the temperature of the container, and ensures product integrity. It is equipped with a near frequency network communication and connected to a smartphone app that can be viewed by a physician or caregiver to ensure patient medication compliance.
The electronic pill dispenser is currently undergoing field trials at leading pharmaceutical companies and Amcor expects the system to be commercialized in 2017.
Blister cartons for pharma regulation-compliant CR and TE
Igb developed and industrialized an innovative child-resistant (CR) folding box that looks like a regular folding box and has a locking system. The box comes with a key: without the key, it cannot be opened. If the key is lost, the box can be easily opened by adults with everyday objects like a pen cap. Children under five are not able to do that. The Igb Child Resistant Folding Box is made of a tear-resistant board that children cannot rip open and relocks automatically when closed.
All the packaging parts are connected, making the whole box a primary package. This makes it suitable to be qualified as child-resistant packaging according to U.S. regulations. The CR box was designed to be mass packaged on standard pharmaceutical packaging lines and does not require investments in machinery. It complies with Directive 2011/62/EU and FDA requirements defining and requiring tamper evidence for pharmaceutical products. The folding box does not need glue or labels, removing two sources of production line delays.
Automation in cannabis packaging
The show floor was abuzz with talk about how best to serve the booming cannabis market with automation technology typically reserved for higher-volume products such as coffee and pharmaceuticals. ArcView Market Research estimated in its "State of Legal Marijuana Markets" report that if the recreational initiatives passed (eight of nine did), the legal cannabis market could reach $11 billion in 2018 and $22 billion by 2020.
Suppliers and end users talked most about the following technologies:
• Weighing, filling and sealing machines for bagged flower
• Pill presses
• Cans and bag seals for flower product freshness
• Filling and bottle labelers for consumer-sized plastic bottles
• Senior-friendly, child-resistant packaging design
• Environmentally friendly packaging materials
Also up for debate is how employers will deal with drug testing moving forward as marijuana becomes legal medically or recreationally. As each state has its own laws, policies may depend on which state the employee resides in.
Blister packs for liquid and semi-liquid doses
After three years of development, Klöckner Pentaplast debuted their LiquiGuard™ solution for packaging liquid and semi-liquid doses at PACK EXPO. Their client needed a non-stick packaging solution that could resist high temperatures, prevent dehydration and agglomeration, retain flavor, and still maintain child resistance. LiquiGuard takes advantage of the inherent benefits of liquids by creating an easy to swallow/drink single dose that can be conveniently and discretely stored. The packaging is easily customizable and can also aid in adherence.
Standard blister packs poseproblems with liquid dosing as they typically cannot withstand hot filling, they may interact with the product to alter flavor and appearance, and they may not be able to run economically. Working with their sponsors, Klöckner developed a multi-layered solution. The barrier layer needed to be easy to thermoform, yet resilient enough to remain unaltered. They also needed to create new tooling and fabrication machines, filling techniques, and lid stock. They landed on a resin with high temperature resistance, controlled shrinkage, and low leachability.
Optima dazzles with 3D and virtual reality
3D imaging of equipment wowed visitors at the show, where Optima Pharma and Optima Life Science unveiled turnkey projects as well as new and flexible machines using virtual reality via on-site simulations at its "VR-Box."
The pharmaceutical 3D projects included large systems it has implemented for filling and sealing under an isolator. The company is also building complete lines that include e-beam, closing, freeze-drying and secondary packaging.
The company says, "Turnkey projects can be as big as a mid-sized family house. Here Virtual Reality can be a great help for discussions with the customer while project engineering is still going on. You can 'zoom' into the machine, walk through it and see all details before they are built in metal."
The company says its first customer projects involve well-known international firms, though customer names or specifics cannot yet be divulged.
Serialization: A personal perspective
Think of serialization and it's easy to focus on compliance deadlines, what equipment to buy, or what software to use. But Steve Peterson sees serialization in a very personal way.
Peterson, Principal of Peterson Group, LLC, told a Nov. 8 ISPE Conference audience at Pharma EXPO that at the heart of serialization is the patient—in this case himself. Describing himself as a healthy man in his fifties, an annual checkup two years ago and subsequent testing revealed he had an unusual disease: aplastic anemia, defined by MayoClinic.org as "a condition that occurs when your body stops producing enough new blood cells."
Peterson and Optel Vision Senior Product Line Manager Mario Simard co-presented "Serialization-Regulatory Compliance" where Peterson said his experience in pharmaceutical packaging and serialization gave him insights into several of the medications he has or is taking to combat his condition.
The presenters encouraged companies not ready to meet serialization compliance to proceed not out of panic, but with a sense of urgency. They recommended if new machinery is needed, consider putting in purchase orders now, even if your company is uncertain about specifications.
Peterson ended the presentation by showing a slide of his family. "For me, this is what serialization is ultimately about—our family, our friends, and ultimately us as patients."
Implementing pharmaceutical serialization
If your company doesn't have executive-level commitment to achieving DSCSA/serialization compliance, you are doomed.
That opinion came from Peterson, during a panel discussion on serialization during the ISPE Compliance Trends Track during Pharma EXPO.
Stephen Lisa, Director, Product Management, Systech Intl. said companies that have successfully integrated serialization make it a point to involve packaging line operators from the beginning. "Companies should try to come up with a method of integrating serialization into their packaging process as opposed to addressing it as a separate item."
Though many experts feel the clock is ticking, Patrick Boyle, President, Skillpad Canada Inc., believed there was plenty of time, especially as companies finalize 2017 budgets. He said the pharmaceutical serialization challenges parallel those of the aerospace business when a 2002 deadline faced that industry's supply chain, which was trying to address counterfeit aircraft parts that affected passenger safety.
"There were teething pains at first, but it's now the new normal in aerospace," said Boyle. "Companies need to build repeatable, consistent procedures and engage packaging line operators to follow through on these steps and procedures."
More than one panelist noted that mergers and acquisitions could lead to artwork revisions, recommending companies consider label consistency to reduce excess changes.
Lisa offered positive news: "Those companies that have employed serialization and aggregation are learning more about their operations and processes. One of the issues that's been discovered, for example, is partial case tracking problems, which were identified and fixed."
He noted, "We had a larger customer with close to 100 lines that has seen line efficiency improve. With aggregation employed, this company found that corner wrap and print-and-apply systems often ran out of labels, an issue that wasn't noticed immediately. The issue became very visible and allowed them to begin to run more quickly and efficiently."
Considerations for implementing single-use filling systems
As biosimilars, biologics, orphan drugs and personalized medicines advance therapeutic treatment options, they also drive demand for greater processing and packaging flexibility.
"These trends typically involve smaller batch sizes, smaller patient populations per drug and they demand greater speed to market with faster time to the patient," said Dena Flamm, Product Manager at Bosch. Flamm and her work colleague Florian Kauder, Project Engineer, discussed "Considerations for Implementing Single Use Filling Systems" during the ISPE Manufacturing Operations Track at Pharma EXPO.
Single-use technology has been used in upstream production processes for years, said Flamm. "But only in the last seven to eight years has it become available for final fill/finish operations. This was an important, but missing piece of the puzzle for the drug."
To justify financial return on investment for a single-use system, customers must examine multiple factors and understand what types of materials they require (double or triple bags, types of tubing, etc.), and the types of pumps and where they will be placed (within the isolator, outside of the machine, etc.). "Some costs may be more than traditional approaches, but it's important to understand that overall total cost of ownership is cheaper," said Kauder.
Invisible codes support internal pharma supply chain traceability
For the pharmaceutical industry, perhaps the most pressing topic is supply chain traceability, and the role serialization and DSCSA play. At a booth presentation, Videojet's Tim Kearns, Pharmaceutical and Medical Device Sales Manager, said the focus on serialization and track-and-trace has been on the transactional data between trading partners. "Supply chain traceability is paramount to preserving the integrity of pharmaceutical products and ultimately patient safety," he noted. "But what about within the walls of your plant?"
Specifically, he referred to brite stocking, sterilization, refrigerated storage and other internal processes that can cause breaks in the product flow, noting that many pharmaceutical operations do not have a continuous flow from bulk product to final packaging on a wrapped pallet. "You need to match physical flow of products with information associated to that drug to ensure product integrity. This is called 'Internal Traceability.'"
Kearns used the challenges of vial traceability within an organization as an example. He said, "For injectable products in vials, the USP's directive does not allow for visible print on the overseal cap (the most practical place to put a traceability code), it only allows for cautionary statements critical for medical practitioners, like 'paralyzing agent' or 'dilute before use.'"
Stating patient safety is the key objective, Kearns asked, "How do manufacturers code vials in a practical way that can be used throughout their traceability process if it cannot be a visible code on the cap?"
One way to accomplish the task, he noted, is to print on the ferrule side or skirt of the overseal, where Videojet has implemented lasers to mark the aluminum skirt. Said Kearns, "The challenge with marking the skirt of the vial comes when you need to verify the product code. Inline verification, typically done at the packaging line, would require a multiple camera solution or a very special lens, but still a viable option."
Weather durability testing
If you've ever had a skunked beer, you're familiar with the negative effect sunlight can have on products. Photo-degradation is a very real issue even in pharmaceuticals where sunlight and fluorescent lighting can affect the color steadfastness of packaging and negate the effects of a drug's active pharmaceutical ingredient (API). About one-third of pharmaceutical products require some form of light resistant packaging. Atlas Material Testing Solutions debuted their SUNTEST suite of products that test the weather durability of powders, pills, and immediate packaging such as blister packs.
According to ICH guidelines, pharmaceuticals must be tested annually for the life of the product, which includes testing the effects of ultraviolet light, visible light, and infrared. Al Zielnik, the representative speaker for Atlas, noted that the next generation of millennial consumers places importance on natural colorants and flavors; they actually want to see the product before they buy it. Packaging trends may lean toward visual transparency, but it's important to know how that affects the product. Another concern is how consumers store smaller doses of medication when they travel. Many use a Ziploc® bag or portable pill organizer, so it's important to educate consumers on best practices for storing and transporting medication. Failure to do so could lead to inadvertent placebos.
Companies in this article
Videos from Klöckner Pentaplast Pharma, Health & Protection and Durables