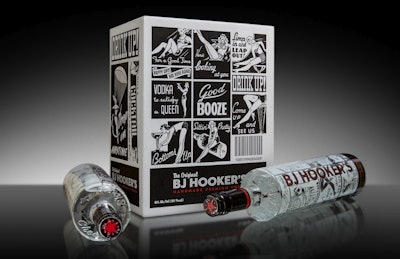 Vodka manufacturers often try to achieve an ever-loftier bottle creation that conveys the finesse of their product. But BJ Hooker's, a Houston-based vodka distillery with roots reaching back to Prohibition, took a different approach with a strong bottle design that features 1950's bar advertising applied with a ceramic labeling process.
The goal of BJ Hooker's new bottle was to retain the fun, Americana personality of the brand by using retro cocktail ads—a BJ Hooker's signature—and present them in a way that captures the vodka's handmade, premium quality.
To accomplish the task, Berlin Packaging and its Studio One Eleven design division created a custom glass container that sports the word "Cheers" and a silhouette of the state of Texas prominently embossed on the raised shoulder, along with another Texas logo deeply debossed atop the bottle backside.
The company's retro imagery was applied using Applied Ceramic Labeling (ACL), a specialized technique in which ceramic inks are fused to the bottle in a conveyor oven. The finished bottle, presenting an elegant 3D effect thanks to the four-color ACL process, boldly sets BJ Hooker's apart in a crowded product category.
BJ Hooker's has applied the new look to all five of its package sizes. The company is also adapting the design for its new line of flavored vodkas.