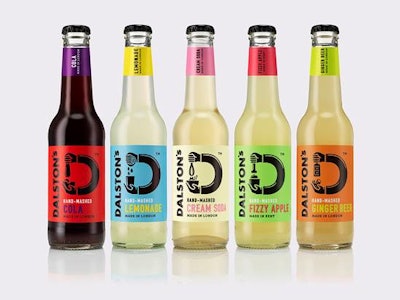 Handmade in East London from 100%-natural and locally sourced ingredients, Dalston Cola Company recently tasked B&B studio with creating a new visual identity to help move its soft drinks from a niche brand to an established product.
B&B retained some of the original brand by elevating the local "hand-mashed" story to express what is special about the range of soft drinks and to make the ingredients the hero.
Client Partner at B&B, Kerry Bolt says, "There was a balance we had to strike. We wanted to retain some of the raw edginess of the brand, what makes it exciting, but also express its expert credentials in an interesting way. This would elevate the brand proposition and get it out there. We also wanted to be truthful to the original product and to the passion behind the brand, which puts the ingredients first, without conforming to tiresome craft clichés."
Creative Partner at B&B, Shaun Bowen, says, "The new identity had to express what is amazing about the product—the care and attention that goes into each bottle. We were able to highlight the brand's hands-on process through the logo rather than layering on overly reassuring handmade messages. The color palette was equally important as we wanted vibrant, modern, eye-catching colors, but we also wanted to ensure we didn't lose any of the naturalness of the product."
Six labels were created for the range, each with its own twist on the hand-mashed "D" of the Dalston's logo and its own cheerful color. In Dalston's lemonade, the hand is squeezing a lemon, whereas on the ginger beer, the hand is seen grating ginger. The brand is also clearly "Made in London" and the tactile label, which curves around the bottle in a "D" shape, tells the story of the brand and highlights the natural ingredients sourced from Ridley Road Market, Dalston.
Dalston's founder, Duncan O'Brien adds, "B&B's approach has made Dalston's feel more like a matured, established brand, while retaining its hand-made, edgy feel. The design, which ignores the obvious craft messages, will really help it stand out from its competitors."